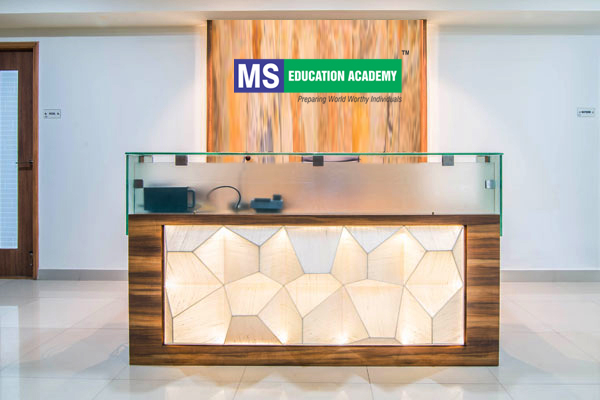 MS Education Academy
MS Education Academy was founded in the year 1991. It has since grown across geographies and is now present not only in Telangana, but also Delhi, Maharashtra and Uttar Pradesh. We provide quality education right from playgroup and kindergarten (KG), all the way to undergraduate (UG) levels and groom students for competitive fields such as Medicine, Engineering, Chartered Accountancy, Law and Civil Services. With a research-driven and result-oriented methodology that focuses on shaping all-round personalities in addition to grooming leaders and achievers, our student base has grown over 33000 in 3 decades.
We are having four levels of Education system.
MS Creative Kids and MS Creative Schools provides a complete education system that caters to the needs of the contemporary society by striking the right balance between secular and spiritual instruction.
MS Junior College and MS Degree College focus on providing comprehensive education to enable our students to pursue professional courses and contribute towards community development.
Chairman's Message:
MOHAMMED LATEEF KHAN
Founder Trustee & Chairman
"What are we running after?"
"What is it that we are trying to achieve?"
"What is it that we want our children to be?"
These are the questions we must ask ourselves before worrying about our future. We also asked those questions ourselves when we laid the foundation of MS Education Centre. Just like you, we were concerned about the future of our children without sacrificing our culture, our values, our identity.
It is a great responsibility with which you entrust us when you place your child in our care. A responsibility that is quite challenging unless there is complete cooperation from all quarters.
Since our inception in 1991, our focus has been on providing a congenial Islamic environment while enhancing quality of modern education; a concept that has now become a phenomenon. We have designed value-based curriculum to impart Islamic values and life skills and have also setup the Central Academic Development Cell to ensure these are properly planned and taught to the children.
Other than the regular activities, we create awareness among our students, develop leadership skills and make them Responsible citizens of the society.