MS IAS ACADEMY STUDENT MOHAMMED BURHAN ZAMAN FELICITATED
As a Noble Gesture, MS management sponsored Umrah Pilgrim Package to his Parents
MS IAS Academy's student Mohammed Burhan Zaman achieved an All-India Rank 768 in the UPSC-CSE 2022 Examination, on this occasion MS Education Academy organized a ceremony at its Corporate Office to congratulate him and his parents for their son's outstanding success in life.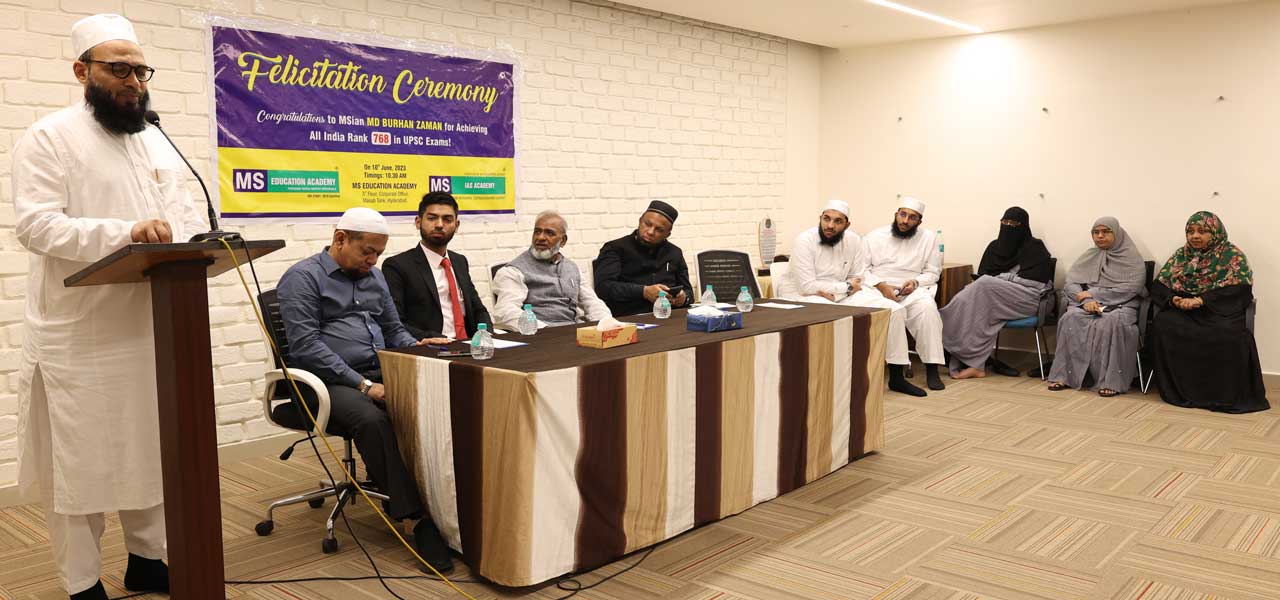 Addressing the gathering, Mohammed Lateef Khan, Chairman of MS Education Academy congratulated Mohammed Burhan Zaman and his parents on their son's achievement and wished him success in his future endeavors. He said that Burhan Zaman's achievement strengthens MS IAS Academy's objective and vision to serve the nation with more enthusiasm and energy.
Mohammed Lateef Khan has announced an Umrah Package for his parents, this announcement comes in the wake of Mohammed Burhan Zaman's success in UPSC Civil Services Exam 2022. As MS also recognizes the efforts and sacrifices made by the parents in making a civil servant.
Speaking on the occasion Mohammed Burhan Zaman praised the facilities he has enjoyed during his stay at MS IAS Academy and asked the present students to work hard and never lose hope during the preparation of UPSC Civil Services Exam.
It is important to note that MS IAS Academy successfully produced third civil servant over the last three years. Mohammed Faizan Ahmed and Mohammed Haris Sumair were the two earlier successful students of MS IAS Academy who achieved this milestone.
In 2022, nine students of MS IAS Academy cleared the preliminary exam of UPSC-CSE and out of them, three students reached the interview level and among them, Mohammed Burhan Zaman secured a place in the final merit list. Burhan Zaman is expected to be selected for the IPS.
Senior Director Dr Mohammed Moazzam Hussain and Managing Director Anwar Ahmed also addressed the gathering. Both Directors praised the efforts of Mohammed Burhan Zaman  and encouraged other students of MS IAS Academy to work hard for UPSC examination.  Vice-Chairperson Nuzhat Sofi Khan also attended this event.