A.K. Khan (IPS) Appreciates MS Vision 2036 at Dream Big 2021
Hyderabad: "Starting an IAS academy is a herculean task and it needs patience and courage. But it is the MS that has the gut to accept this challenge and established an IAS academy", said A. K. Khan (IPS) Advisor to Government of Telangana at the Dream Big 2021 programme.
He praised the passion and commitment of the chairman Mohammed Lateef Khan of MS Education Academy and his team who had taken the initiative to establish an IAS academy as a challenge and have achieved this difficult feat. He also appreciated the Vision 2036 plan of Chairman Mohammed Lateef Khan.
He also expressed his happiness over the success of 2 students of MS IAS Academy and termed it is a big success of the academy.
Congratulating Faizan Ahmed (AIR 58) and Mohd. Haris Sumair (AIR 270) the two heroes of MS IAS Academy, the Advisor to Government of Telangana, advised them to be prepared for the actual journey of IAS as their journey starts now. Every day is going to be a new exam and a challenge while you interact with various sections of the society and at work.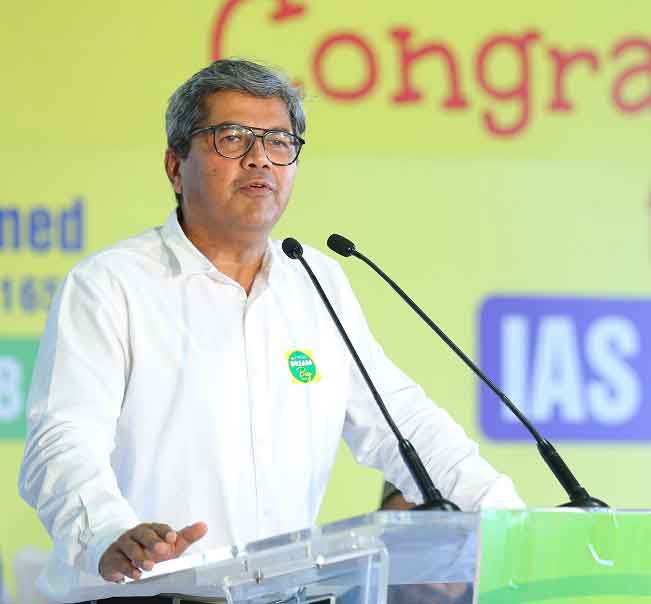 Former IAS officer and renowned economist Amirullah Khan, termed the success of two students of MS IAS Academy as miracle. "Hardly any institution starts giving result within a few years of its establishment. It takes 10 to 12 years for any new academy to give result but MS gave result within 4 years of its inception which is not less than a miracle".
He appreciated MS decision to establish IAS academy in Hyderabad. "MS deserves praise for its initiatives to produce upright officers and also to increase the participation Muslims in the bureaucracy.
He also appreciated the academic curriculum of MS and said, this curriculum focuses on value based education. MS has its own research division which is found in very few educational institutions of the world. He advised the chairman to work towards achieving a Nobel prize in the next 15 years.

Chairman Mohammed Lateef Khan presented the MS Vision 2036 plan. He said that in the next 15 years MS plans to achieve our vision set target. "We have decided that by 2036, MS will produce 1000 IITans, 10,000 doctors, 1000 lawyers, 1000 CAs, and 100 IAS officers. 100 students will complete their higher education from universities like Harvard, MIT, Stanley etc. setting up one university, establishing 2036 branches across globe and taking MYJO School @Home to all homes across the continents by 2036″.


Faizan Ahmed (AIR 58) spoke about his journey and contribution of MS in his success. "it was MS IAS Academy's advertisement that triggered the thought to write the exam and the result motivated him to take the goal seriously". He emphasized the role of extra-curricular activities and a holistic approach to achieve big.

Mohd. Haris Sumair (AIR 270) addressed the students and motivated them to dream big and not think that UPSC exam or IAS post is difficult and not achievable. He also suggested the students to definitely take up sports and take up diversified learning and courses rather than focusing on only one. He exhorted the students to become IAS to serve the society and the country.

As a token of appreciation, the management gave both these two achievers one Mac book and sponsored the Umrah package to both the parents.

MS organized the day 2 programme of Dream Big 2021 at Metro Classic Function Hall at Aramghar to felicitate the 2 super heroes of MS IAS Academy who cracked the Civil Services Examination 2020 and got selected for IAS. Thousands of MSians along with their parents attend the program and got inspired with the motivational speeches of the achievers and the dignitaries.