Education is not for employment, it is to broaden our horizon: Dr. Chetana (IPS)
Hyderabad: "Education is not for employment, it is to broaden our horizon. With education you can think more". Education of Girls is very important these days because women need to develop more. If she is secure, she will contribute more to the society", said the Chief Guest at the prize distribution ceremony of ENGLISH FIESTA.
Young lady police officer Dr. Chetana (IPS) who is the Assistant Commissioner of Police of Sultan Bazar zone was the Chief Guest of the girls event of Grand Finale of ENGLISH FIESTA.
Impressed with the performance of little girls, she compared them with buds and moon and said "You are like buds and need to blossom." ."You are beautiful flower and different from one another".
She applauded the efforts of MS that it is working to improve the communication skills of girls at this tender age. " I am glad to see that MS has chosen the students of this age", praised the lady cop. She also suggested to introduce language, philosophy, games and art in the school curriculum.
She highlighted the wide gap of women work force in police service and said more and more girls should join police service to fill up the wide gap of male female ratio.
She said the girls have more strength and courage if they decide they can achieve anything. With these encouraging words the Chief Guest motivated the girls and inspired them to follow her foot steps. She suggested them to study hard and get into the police service.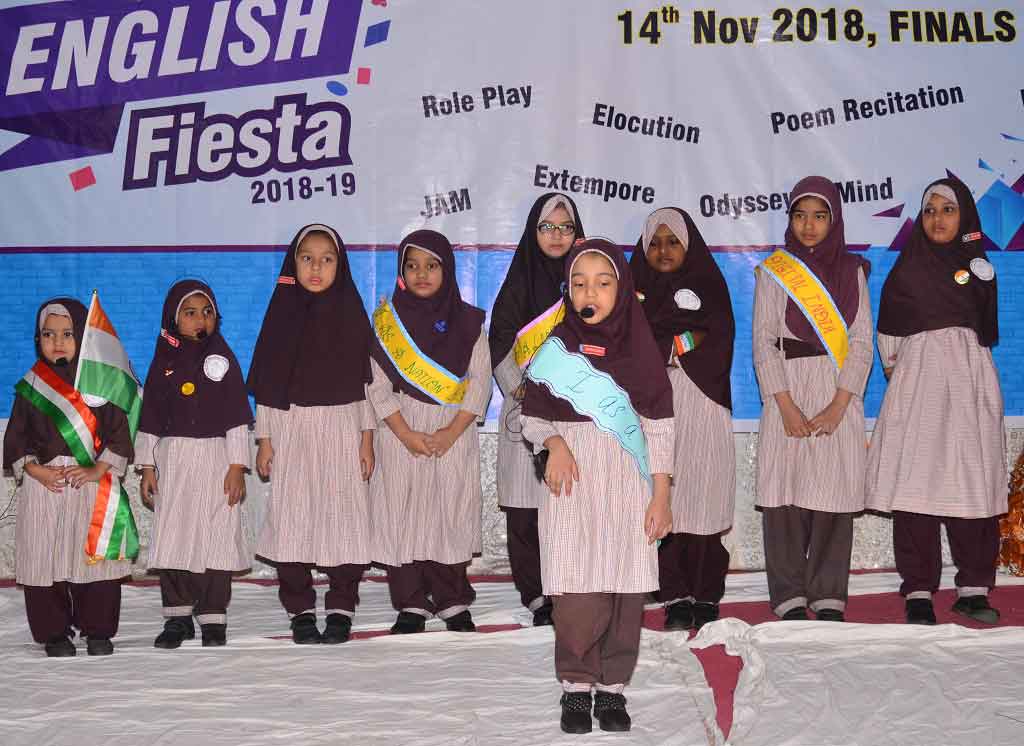 The Vice Chairperson Mrs. Nuzhat Khan thanked the chief guest for accepting the invitation at the short notice and said our students get inspiration from you. She also said. " I really feel that the girls can do wonders if they get an opportunity"
The Grand Finale of ENGLISH FIESTA, one of the landmark events of MS, was held on 14th November 2018 at S.S. Gardens , Malakpet, Hyderabad. The semifinalists (226 boys & 226 girls) of different zones of MS Creative Schools showcased their talents of English through various events to win the title of year 2018.
MSians performed various events like Role Play, JAM, Extempore, Odyssey of Mind, Public Speaking, Poem Recitation, Elocution to vie the title. The Girls event was scheduled from 9:30 to 1:00 pm and the Boys event held from 2:00 pm to 5:30 pm.