To,
The Editor,
Sub: Request your esteemed newspaper to bring awareness of free education by MS for flood victims of Hyderabad
Respected Sir/Madam,
One can only imagine how it would be when you loose everything like EVERYTHING except your faith and will. While doing the relief work and opening our premises at various locations in the city to provide shelter, we realised that most of the people affected by floods were well to do dignified and would never reach out for help.
Other than the ration and used clothes being shared as help, we need to look beyond and help them get back to normal, stand back on their feet and all of us should do our bit. It was a double blow especially when people were struggling with COVID related economic challenges. Now, even the basic necessities have become dreams for such flood victims.
Therefore, Management of MS Education Academy took a vow to help the youth of these areas in their pursuit of education. MS Junior College and MS Degree College will offer 1 year of free education to all the children from the flood affected areas. It is unconditional irrespective of any reservations. They only have to bring proof from respected authorities that they lived in those areas and got severely affected by floods.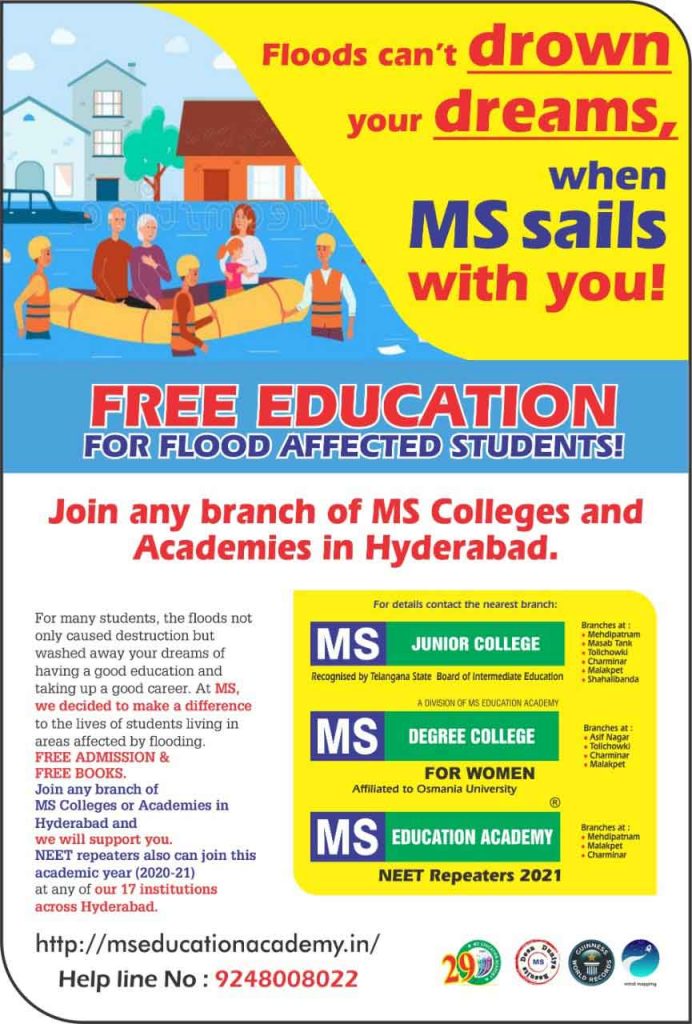 MS is not only offering free education but free books and study materials as well so that there's no hiccup in their pursuit whatsoever. Seats are available in all streams of our Intermediate Education (10+2) and Degree college at all our branches. There's a special provision for those who would like to repeat their NEET exam. We will provide one year free coaching to them.
We sincerely appeal to your kind self to take a note of this opportunity and spread a word among those who deserve through all the channels of your esteemed media.
Sincerely,
Management,
MS Education Academy