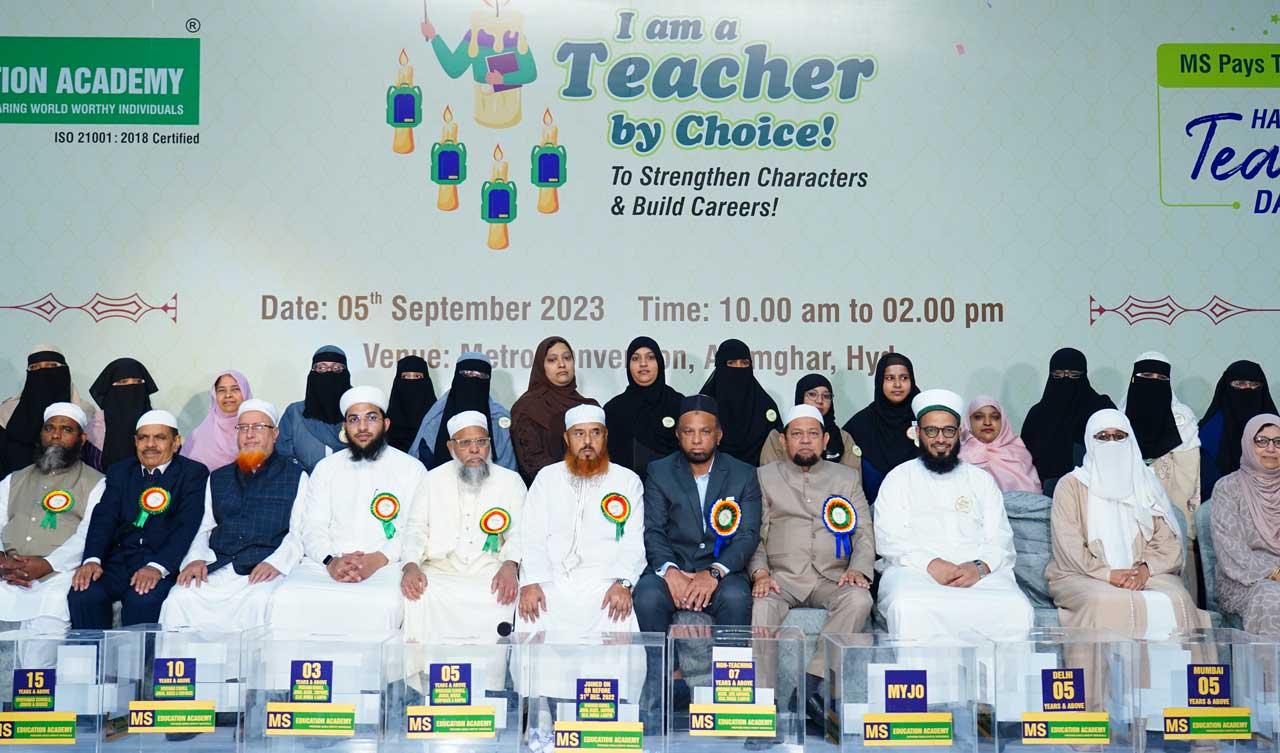 MS Celebrate Teachers' Day on a Grand Scale
Selects 25 teachers for Umrah or Foreign Trip by draw as a token of appreciation
156 teachers awarded for outstanding performance and contribution
Teachers hold a highly esteemed position in our society, and on Teacher's Day which celebrates on 5th September every year, MS Education Academy hosted a grand event under the theme "I am a Teacher by Choice!" to celebrate and honor MS Teachers unwavering dedication and the significant impact they have on our lives. This special event, organized by MS Education Academy, aimed not only to recognize and reward our teachers but also to provide 25 of them with the gift of Umrah or a foreign trip. The event took place at the Metro Convention Hall in Hyderabad where teachers were warmly greeted with showers of flowers. Dr. Sayed Hameed, the Director Academics of MS Education, led the teachers in a pledge to ensure the well-being of their students.
Chairman Mohammed Lateef Khan delivered an inspiring speech, highlighting the pivotal role teachers play in shaping the future and expressing his dream of establishing 100 institutions under MS's banner which Alhamdulillah turned into a reality. Regarding Chandrayaan 3's mission he expressed his determination that, with the grace of God, MS students will have the opportunity to reach the moon. Chairman Mohammed Lateef Khan emphasized the significant place teachers hold in Islam, emphasizing the saying that those who honor and respect their teachers have upright destinies. He also urged everyone to be mindful of excessive mobile phone use, which can be a significant distraction and time-waster.
Following Chairman Mohammed Lateef Khan's speech, 156 teachers were recognized and awarded for their exceptional performance. A draw was then conducted, resulting in the selection of 25 teachers for Umrah or a foreign tour.
Special Awards were given to the following staff:
Ms. Sana Fatima (Teacher Malakpet Branch) received recognition for her remarkable contribution in designing the SCERT Telugu books.
Mr. Abdul Baseer, head of the MYJO Team was acknowledged for his outstanding contribution in designing MYJO Books.
Dr. Ateeq Ahmed, Principal MS Junior College Boys Malakpet, received an award for achieving Positive Reviews on Google.

Specifically, 24 teachers were chosen for Umrah, and one teacher was selected for a foreign trip. This generous gesture by MS Education Academy has been ongoing for two consecutive years. In the previous year, 23 MS Education Academy teachers went for Umrah, while three non-Muslim teachers traveled to Dubai with their spouses. The announcement of the selected teachers' names through the draw brought tears of joy to the teachers and touched the hearts of the audience and guests present at the ceremony.
During the event, Senior Director Dr. Mohammed Moazzam praised teachers for their significant contributions to our educational achievements over the past year, in line with this year's theme, "Teachers at the Heart of Education Recovery." Managing Director Anwar Ahmed acknowledged our teachers for their dedication in providing daily education to students despite their own worries.
Hazrat Maulana Mohammed Bin Abdul Raheem Baneem, Vice-President of Majlis-e-Ilma (Telangana and Andhra), emphasized that a teacher's role extends beyond teaching; it includes providing love and compassion, similar to a parent, and treating students as their own children.
Vice-Chairperson Nuzhat Sofi Khan emphasized that Teacher's Day is not just an event; it's a heartfelt tribute to those who mold the future of our country by nurturing young minds and fostering positive change in society through their unique talents. She stressed the need for utmost respect for our teachers for these reasons.
In addition to the celebrations, a blood donation camp was organized by the Thalassemia Society, where MS teachers generously donated blood. The event was skillfully coordinated by Junior Director Mohammed Owais Khan and Mohammed Ilyas Khan. The event was further graced by the presence of a well-known personality from Makkah, Akbar Jagtiali, as a special guest.
The event also included the recognition of outstanding educators. Ten teachers were honored for their excellence in English calligraphy, while four teachers received the IMO (International Mathematics Olympiad) award for their outstanding achievements.
Dr. Mohammad Moazzam Hussain, Senior Director, delivered a thought-provoking speech, highlighting that the future of communities relies on the capabilities, performance, and dedication of teachers. The event concluded with a vote of thanks by Dr. Ghouseuddin.
The MS Education Academy, renowned across the country, continues to set an example by initiating various incentives for its teachers every year on Teachers' Day. This year's celebration saw the participation of approximately 2,000 MS teachers, including non-teaching staff.