MS Degree College organize 'Jashn-e-Kamiyabi'
Memento distribution among the 32 merit students and 20 college toppers
First of its kind event was organized at Metro Convention Hall by MS Degree College. This felicitation ceremony is called 'Jashn-e-Kamiyabi', students of 4 MS Degree Colleges participated in it. More than 1000 alumni gathered and Certificates were distributed among the toppers of previous and present years. Among the recipients were the toppers of the year and subject toppers as well, it was a joyful occasion for all of them.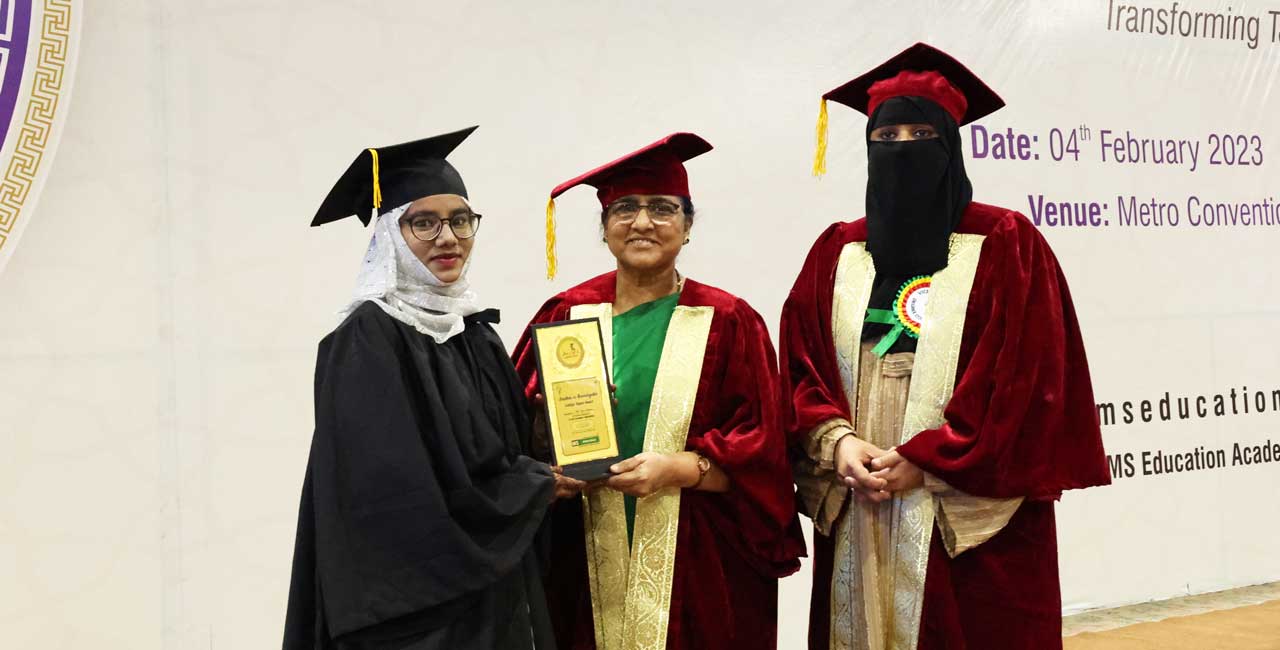 Senior Gynecologist, Dr. Fahmida Banu was invited as a chief guest this year. Thirty-two meritorious students were presented with memento and certificates for their distinguished performance.
11 students of MS Degree College (Asif Nagar)
7 students of MS Degree College (Toli Chowki)
7 students of MS Degree College (Malakpet)
7 Students of MS Degree College (Shahalibanda)
Thus, a total of 32 female students were presented with Merit Awards by Ms. Nuzhat Khan, Vice Chairperson and special guest Dr. Fahmida Banu. At the same time, certificates were distributed among the other successful students also. Ms. Nuzhat Khan in her address congratulated the students for completing their graduation. She expressed happiness over the celebration of the 'Jashn-e-Kamyabi' event.
On this occasion, she asked the students to adopt the spirit of service through their knowledge and skills and start implementing it from their homes first. She advised the students to become active players in the development of society and most importantly to become excellent and exemplary mothers in the future. The special guest Dr. Fahmida Banu during her speech urged the students to move forward in their respective fields with discipline and determination.
The Lecturers and Principals of four MS degree colleges (Asifnagar, Tolichowki, Malakpet & Shahalibanda) were present at this convocation ceremony.
At the beginning, students of the degree colleges expressed their gratitude towards their teachers and officials. The students were given opportunities to set up different types of stalls through which they can present their innovative skills.
According to old tradition, all the graduate students were sworn in and the event came to an end with a singing of the national anthem.