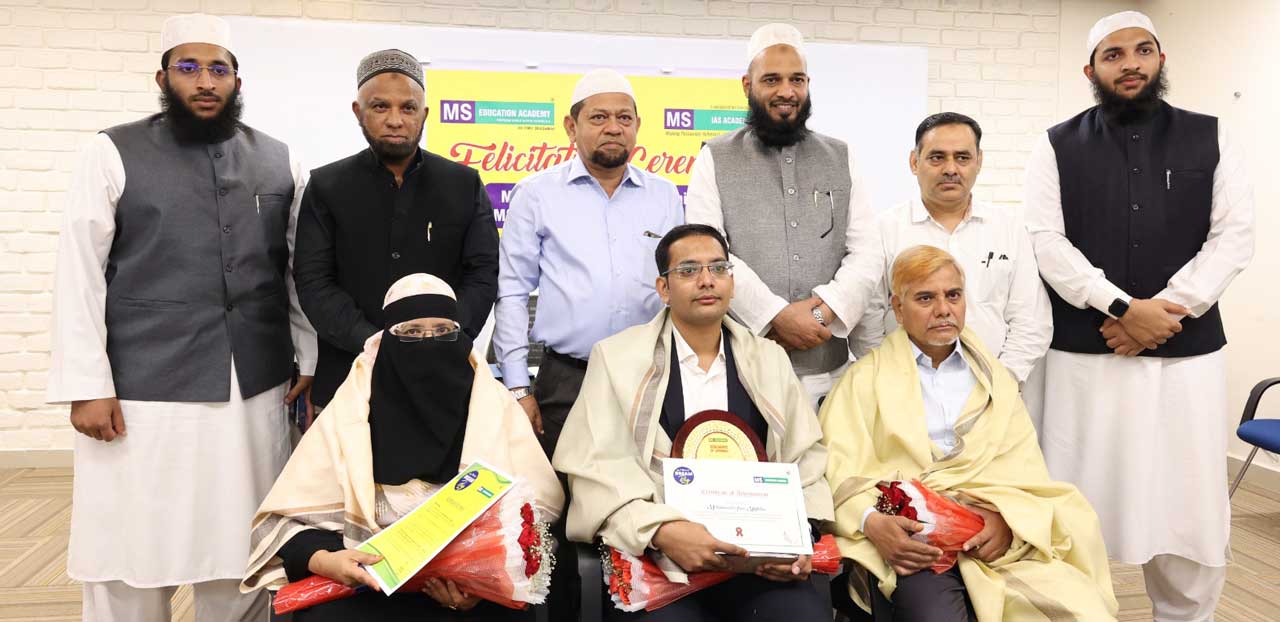 MS Felicitate UPSC Achiever Mohammed Asim Mujteba
MS Chairman Honor Mujteba's Parent with Umrah Package
Mujteba express gratitude for MS IAS Academy's guidance, support and facilities
In a jubilant ceremony held at the Corporate Office of MS Education Academy, the achievements of yet another exemplary student of MS IAS Academy's Mohammed Asim Mujteba in the Civil Services Examination 2022 were celebrated. Mujteba, securing a commendable 937th rank in the UPSC CSE 2022 reserve list, has been selected for the prestigious Central Civil Services.
The ceremony, graced by the presence of distinguished personalities including Chairman Mohammed Lateef Khan, Managing Director Anwar Ahmed, Senior Director Dr. Moazzam Hussain, and other esteemed members, was a felicitation of Mujteba's remarkable feat. The parents of Asim Mujteba were also honored guests at this event, joined by students from MS IAS Academy.
Chairman Mohammed Lateef Khan conveyed his heartfelt congratulations to Asim Mujteba's parents and bestowed them with a token of appreciation—a shawl, in recognition of their son's success. Moreover, in a heartfelt gesture, the Academy announced an Umrah Package for the parents of Mohammed Asim Mujteba, acknowledging their pivotal role in his journey. In this significant moment, Junior Directors Mohammed Owais Khan and Mohammed Ilyas Khan extended their commendations to Mohammed Asim Mujteba.
This recent achievement follows the success of Mohammed Burhan Zaman, who secured the 768th rank in the Civil Services Examination's first list of May 2022. Both Zaman and Mujteba, students of MS IAS Academy, made notable strides in their journeys toward public service. While Zaman has been appointed in the Indian Revenue Services, Asim Mujteba is anticipated to assume a significant role in the Central Services shortly.
Expressing his joy and gratitude for achieving success in the esteemed Civil Services, Asim Mujteba, a Chemical Engineering graduate in 2016, emphasized his four-year-long dedication to the civil services preparation. He attributed his success to the support and guidance provided by MS IAS Academy, lauding the coaching, facilities, and conducive environment crucial to his accomplishments.
Mujteba extended his gratitude to his family, classmates, particularly acknowledging current IAS officer Mohammed Haris Sumair, and colleague Mohammed Nadeem at MS IAS Academy for their unwavering support.
Chairman Mohammed Lateef Khan, in his address, praised Asim Mujteba's success, highlighting the continuous efforts of MS IAS Academy since its establishment in 2017. Emphasizing the institution's commitment to excellence, he revealed the ambitious goal of producing 100 IAS officers for the nation by the year 2036.
The success stories of Mohammed Faizan Ahmed, Mohammed Haris Sumair, Mohammed Burhan Zaman, and now Mohammed Asim Mujteba stand as testament to the Academy's dedication to shaping future leaders for the country.