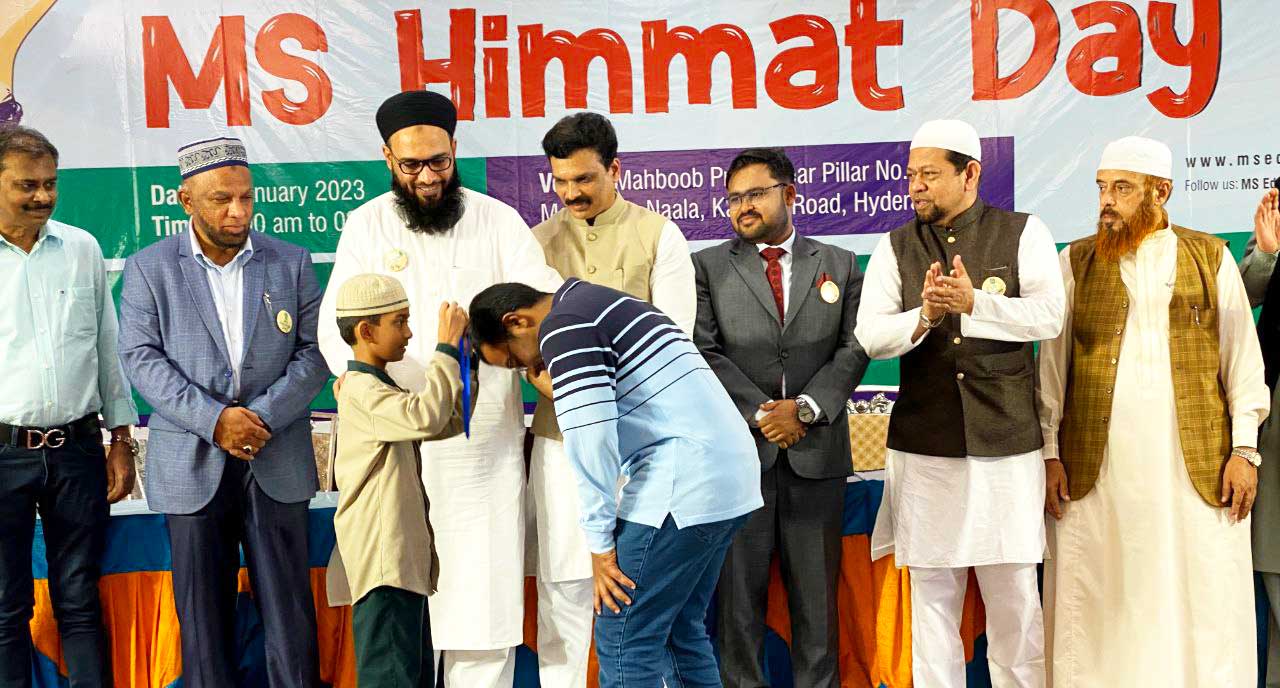 MS Organized 'Himmat Day' to Encourage Orphans
'Widow Empowerment Program' announced by MS Chairman Mohammed Lateef Khan
MS Education Academy honoured the first day of 2023 as a Himmat Day for the 2213 orphans studying in its MS Creative Schools. In this event, MSians who secured seats in IITs and NITs this year were invited, Gold and Silver medals were distributed among them, who got admission in IITs and NITs. This medal distribution ceremony was conducted in which orphans gave medals to IIT and NIT students, in response to which the MSians placed their hands on the heads of orphan students as a sign of blessing and prayed for their success and bright future. 23 MSians who got admission in IITs were awarded Gold Medals and 31 MSians who secured seats in NITs were awarded Silver Medals.
On this occasion, MS Chairman Mohammed Lateef Khan announced the 'Widow Empowerment Programme' to support widows. Under this initiative, a skill development program will commence where widows will be trained on different skills like basic computer knowledge, sewing, making jute bags, and retail marketing knowledge. For this cause, the first training institute will start at Charminar and preparations have been made to establish a center which will be inaugurated on India's Republic Day (26th January) this year.
He also offered the Widows to run a canteen at MS Creative Schools without any investment and to run the canteens the widows will also be provided with goods at reasonable prices. Apart from this he also announced to provide health cards to every orphan student and his/her mother, for which MS collaborated with the Access Foundation and Mujtaba Helping Hand Foundation and together they will establish health camps for cardholders in near future. Besides this, treatment facilities going to be provided in the best hospitals for all cardholders for only 135 rupees.
Telangana Minorities Residential Educational Institutions Secretary, Mr. Shafiullah advises MSians "to have a dream in life and one should work hard to achieve it. He said setting up a goal or dream is not only essential for organization or country but for every individual also and once the goal is set, one should work hard to make it a reality. He further said to achieve the dream one should have planning, preparation and execution. Whatever exams you are going to write whether it is Board Exam, NEET or UPSC, these 3 components (Planning, Preparation & Execution) are must-be in one's mind to come out in flying colors".
"During his address, he quoted an example of Singapore, which was a barren land and lacked education but today Singapore has become one of the richest and the cleanest country because they have invested in education which is based on skills. Education should not only be knowledge-based, our education should revolve around knowledge, skills and values. At last, Mr. Shafiullah congratulated MS Chairman Mohammed Lateef Khan and his team for organizing such a wonderful event and said that I am very happy to participate in the 'Himmat Day' of MS Education Academy."
IAS officer Mr. Faizan Ahmed also addressed the orphan students and encourage them. He also mentioned that in Quran the rights of orphans have been given and we have to behave with them with kindness and empathy. Both civil service officers advised the orphan students not to lose hope and to work hard for their bright future.
At this event, Mufti Dr. Sajid Siddiqui Falahi's book – 'The 63' which is based on motivational stories was publicized and this book was distributed among the students. He also delivered a presentation titled 'Himmat Talk' in which he explained the relationship among the Orphans, Allah (SWT) and His Prophets.
MS Education Academy Managing Director Anwar Ahmed and Senior Director Dr. Muhammad Moazzam Hussain also addressed the students and encouraged them.
Moulana Ayub Nadwi Bhatkali also addressed the Orphans and said "that Lateef Sahab is a beautiful example for the orphans as he himself is an orphan and asked them to have high goals and be courageous to conquer them. He quoted the Quran, "Mimma Razaqnahum Yunfiqun" which means- "Give from what we have provided" and if your intention is good, then rewards are according to your intentions. He also said that if today you dream big then in future people will get benefit from your actions and you will become beneficial for Ummah, humanity and the world at large."
At the closure ceremony, MS distributed a kit to all the people who attended event, the kit contained:
· MS 2023 Calendar
· The 63 – Motivational Book
· Surah Kahaf Booklet
· Yummy Wafer Packet
· A can of Asli Talbina.
MOTIVATIONAL SPEECH:

WIDOW EMPOWERMENT PROGRAM:

MS HIMMAT DAY 2023: