MS Host Grand Graduation Ceremony for Huffaz
Dastarbandi Ceremony held to honor 111 MSians Huffaz 73 Boys and 38 Girls.
300 MSians completed memorization of Quran at MS Hifz Academy
In Commemoration of Independence Day, MS hosts grand graduation ceremony for Hifz-e-Quran graduates. MS Hifz Academy, a beacon of holistic education, celebrated a monumental achievement on Independence Day as it felicitated 111 accomplished graduates of Hifz-e-Quran. On  the eve of 15th August 2023, the elegant Dastarbandi ceremony, held at the prestigious Metro Convention Aram Ghar, united venerable scholars, revered guests and proud families in a convergence of spiritual growth and contemporary learning.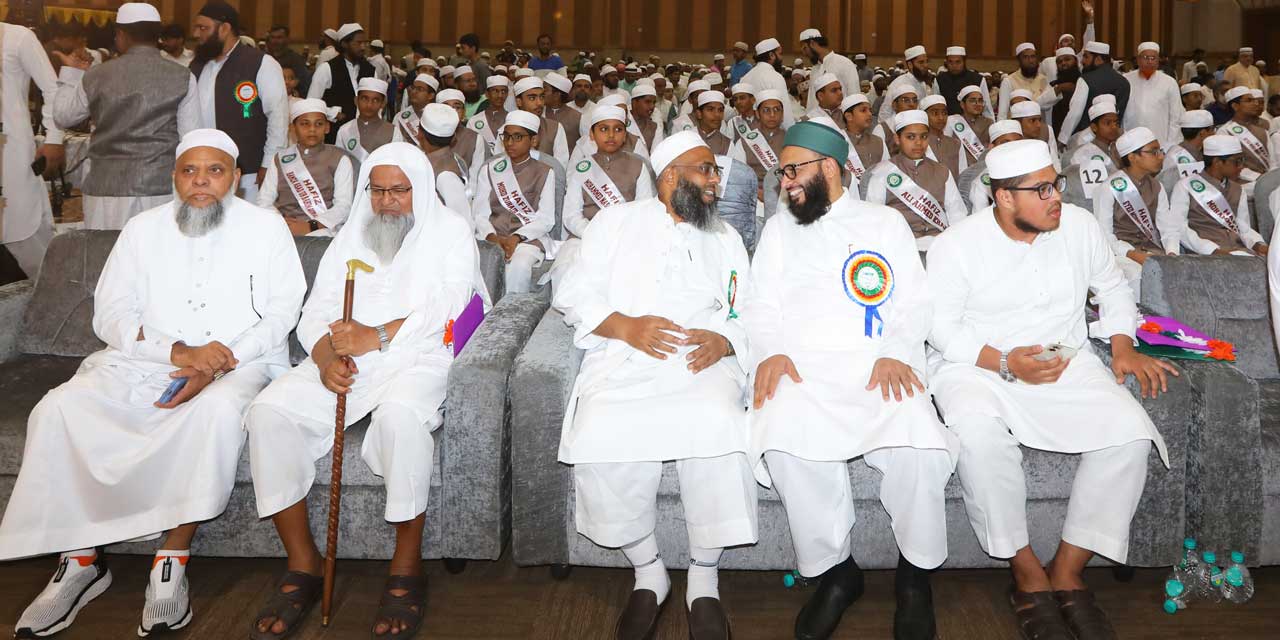 In a splendid tribute to tradition and advancement, MS Hifz Academy paid homage to the dedication of 111 young individuals who have become Hafiz-e-Quran. The fifth annual Dastarbandi ceremony, graced by esteemed scholars and dignitaries, illuminated the significance of Quranic memorization in the context of modern education. Under the tutelage of renowned memory trainer, Mohammad Lateef Khan, 73 boys and 38 girls from the distinguished sixth and seventh batches celebrated their graduation from the MS Hifz Academy. Beyond Quranic memorization, they imbibed advanced memory techniques that transcend religious teachings, enriching their lives holistically.
The 5th Dastarbandi ceremony embodied MS Education Academy's profound mission to cultivate a generation that seamlessly blends Islamic teachings with modern knowledge. The event encapsulated the unwavering commitment of the students, while esteemed scholars shared insights that resonated with attendees, imparting wisdom that bridges generations. For over five years, MS Hifz Academy has nurtured and empowered 300 Huffaz, cementing its dedication to upholding the Quran's profound teachings. Mohammed Lateef Khan, Chairman of MS Education Academy, lauded the graduates' achievements and extended his heartfelt wishes for their futures, signifying the enduring impact of the institution. On this occasion, he also congratulated students' parents for supporting their children in memorizing the Quran. Amidst this celebration, the Academy's commitment to inclusivity and diversity was exemplified through dedicated sections for women, championed by Vice-Chairperson Nuzhat Sofi Khan.
The highlight of the ceremony was the mesmerizing Dastarbandi ritual, a spectacle where esteemed guests adorned with dignified turbans bestowed certificates and keepsakes upon each accomplished Hafiz, making the occasion truly unforgettable.
The presence of MS Managing Director Anwar Ahmed and Senior Director Dr. Mohammed Moazzam Hussain highlighted the Academy's steadfast support for its Hifz-e-Quran graduates. This collaborative effort between leadership and scholars illuminated the graduates' journey toward embracing their heritage while forging ahead into a promising future.
As the sun set on this momentous evening, the 5th Dastarbandi ceremony emerged as a harmonious tapestry weaving together the threads of tradition, knowledge, and aspiration. In a world where modernity and heritage unite, MS Hifz Academy stands as a beacon, illuminating the path for future generations to enrich their minds and souls.
Lists of  111 MSians (73 Boys & 38 Girls) who achieved the amazing feat of memorizing the Holy Quran from the MS Hifz Academy.
| | | |
| --- | --- | --- |
| No. | Student Name | Father's Name |
| 1 | AAFAQ AHMED | MOHAMMED MUSHTAQ |
| 2 | ABDUL AHAD HAMZA | MIR MOHAMMED ALI NAVEED |
| 3 | ABDUL MALIK | MOHAMMED IBRAHIM HABEEB |
| 4 | ABUBAKAR BIN AHMED WAHLAN | AHMED BIN SALAM WAHLAN |
| 5 | AHMED ABDUL WALI | DR. MOHAMMED OBAIDULLAH |
| 6 | ALI AHMED KHAN | AHMED ABDUL RAHMAN KHAN SAAD |
| 7 | AQIL MOHAMMED ALI | MOHAMMED IFTEQAR ALI |
| 8 | ARHAAN AHMED | MOHAMMED MUSHTAQ |
| 9 | GULAM MOHAMMED ZAINUDDIN | GULAM MOHAMMED SHAFIUDDIN |
| 10 | GULAM RASOOL KHAN | SHABBAR HUSSAIN KHAN |
| 11 | HAMZA ASAD UR RAHIM QURAISHI | MOHD WADOOD UR RAHIM QURAISHI |
| 12 | HUSSAIN BIN KHALID | KHALID BIN OMER |
| 13 | HUZAIFA KHAN | MOOSA FAHEEM ULLAH KHAN |
| 14 | IKRAMA HAMZA KHAN | MOOSA FAHEEM ULLAH |
| 15 | M.A BASEER FUHAIR | M.A MAJEED ZUBAIR |
| 16 | MD ATIF KHAN | RAHMATH MUJAHED KHAN |
| 17 | MIR MUITABA ALI | MIR NASAR ALI |
| 18 | MOHAMMED ABDUL HAFEEZ MUNEEB | MOHAMMED ABDUL ALEEM FAISAL |
| 19 | MOHAMMED ABDUL HASEEB SHARIQ | MOHAMMED ABDUL SABOOR KHALED |
| 20 | MOHAMMED ABDUL MUHAYMIN KHAN | MOHAMMED ABDUL MUQEET KHAN |
| 21 | MOHAMMED ABDUL RAFAY | MOHAMMED ABDUL ADIL |
| 22 | MOHAMMED AFFAN TALHA KHAN | MOHAMMED ABDUL MOIZ |
| 23 | MOHAMMED AFFAN UDDIN TAUSEEF | MOHAMMED FAYAZ UDDIN |
| 24 | MOHAMMED ARHAM ALI | MOHAMMED YAWAR ALI |
| 25 | MOHAMMED AYAAN KHAN | MOHAMMED AKBER KHAN |
| 26 | MOHAMMED HASHIR EASA | ABDUL AZIZ |
| 27 | MOHAMMED IBRAHIM AHMED | MOHAMMED ISMAIL AHMED |
| 28 | MOHAMMED ISMAIL | ABDUL SAMAD |
| 29 | MOHAMMED JAFFER SIDDIQ | MOHAMMED ABDUL RAHEEM |
| 30 | MOHAMMED KAREEMAIN | MOHAMMED KHASIM |
| 31 | MOHAMMED KHAJA MOINUDDIN | MOHAMMED SHUJA UDDIN |
| 32 | MOHAMMED LHTESHAM UDDIN | MOHAMMED NAYEEM UDDIN |
| 33 | MOHAMMED MAAZ AHMED | MOHAMMED MATEEN AHMED |
| 34 | MOHAMMED MUSAIB SOHAIL | MOHAMMED ASIF SOHAIL |
| 35 | MOHAMMED MUSTAFA RUHI SUFIYAN | MOHAMMED ABDUL RAOOF |
| 36 | MOHAMMED MUZAMMIL | HAFEZ SHAIK MOHD MASOOD |
| 37 | MOHAMMED NASER HUSSAIN | MOHAMMED KHAIA FARRUKH HUSSAIN |
| 38 | MOHAMMED REHAN | MOHAMMED HASNAIN |
| 39 | MOHAMMED SAFIULLAH KHAN | MOHAMMED UBAIDULLA KHAN |
| 40 | MOHAMMED SAMI UDDIN | HAFEZ MOHAMMED SHAFI UDDIN |
| 41 | MOHAMMED SHAHZAIB FARAZ | MOHAMMED SARFARAZ |
| 42 | MOHAMMED ZIYAD HUSSAIN | MOHAMMED ZAKIR HUSSAIN |
| 43 | MOHAMMED ZUHAIR IMTIAZ | MOHAMMED IMTIAZ |
| 44 | MOHD BILAL | ABDUL HASEEB |
| 45 | MOHD HUSSAIN ALI | MOHD ALI HASSAN |
| 46 | MOHD YOUNUS | MOHD HAFEEZ |
| 47 | MOHD ZUHAIR SHAREEF | HANEEF SHAREEF |
| 48 | MUHAMMAD HASAN ABDULLAH | AFROZ AHMED MOHEMMED |
| 49 | MUNTASIR KHAN | RAIS KHAN |
| 50 | NAWAL UR RAHMAN | AFZAL UR RAHMAN |
| 51 | RABAH UR RAHMAN | AFZAL UR RAHMAN |
| 52 | SHAHEERUDDIN AMMAAR KHAN | SHAMSHUDDIN KHAN |
| 53 | SHAIK ASGHAR UDDIN | SHAIK NIZAM UDDIN |
| 54 | SHAIK GHAZANFARUDDIN | SHAIK NIZAMUDDIN |
| 55 | SHAIK MOHAMMED MUSAAB ABDULLAH | SHAIK MOHAMMED MASIHUDDIN |
| 56 | SOHAIB AHMED SHAREEF | ARSHAD ULLAH SHAREEF |
| 57 | SYED ABDULLAH ALI AZMATH | SYED AZMATH ALI |
| 58 | SYED ABRAR HUSSAIN | SYED MAZHER HUSSAIN |
| 59 | SYED BILAL | SYED SULEMAN |
| 60 | SYED HUZEFA AHMED | SYED QIZER AHMED |
| 61 | SYED IKRAAM UDDIN | SYED FAREED UDDIN |
| 62 | SYED IKRAMUL HAQ | SYED ATHERUL HAQ |
| 63 | SYED KHAJA MOINUDDIN HUSSAIN CHISHTI | SYED ABDUL RAHMAN CHISHTI |
| 64 | SYED MAAZ ALI | SYED MUNEEB ALI |
| 65 | SYED MOHAMMED AHMED UDDIN | SYED MOHAMMED ALI UDDIN |
| 66 | SYED MOHAMMED MUHIB NAHRI | SYED EHTESHAMUDDIN NAHRI |
| 67 | SYED MUSHFEQUDDIN NAHRI | NAHRI SYED ZAMEERUDDIN |
| 68 | SYED RAYYAN AHMED | SAMI AHMED |
| 69 | SYED SAFIULLAH HUSSAINI | SYED AZEEZULLAH HUSSAINI |
| 70 | SYED SAFWAN MURTUZA | SYED MURTUZA |
| 71 | SYED SHAH MOHAMMED HUSSAINI | HAFIZ SYED ALI ABBAS QUADRI |
| 72 | SYED TAJAMMUL | SYED SHAKER |
| 73 | ZIA UR RAHMAN | AFZAL UR RAHMAN |
| 74 | ADEEBA TABASSUM | MOHAMMED AKBAR |
| 75 | AFEEFA MEHREEN | SUHAIL AHMED |
| 76 | AFRAA FATIMA | MOHAMMED WAIAHATH ULLAH |
| 77 | AMATUR RAHMAN MAIRA | MOHAMMED ABDUL MOID |
| 78 | AMINA QURESHI | MOHAMMED AFSAR QURESHI |
| 79 | ARIBA IRAM | MOHAMMED JAFFER |
| 80 | ATIFA SULTANA | MOHAMMED AKBAR KHAN |
| 81 | ATIKA SADIYAH | MD TAHER SHAREEF |
| 82 | FATIMA HOORIA | IFTEKHAR MOHAMMED |
| 83 | FATIMA ZAHRA | SYED VIQAR AHMED |
| 84 | HADIYA BEGUM | ISHTIYAQ ALI KHAN |
| 85 | HANIYA KHANAM | MOHAMMED AMER KHAN |
| 86 | HUDA NAZLY KHAN | MOHAMMED ABDUL BASITH KHAN |
| 87 | IQRA NAUSHEEN | MOHAMMED QADEER UDDIN |
| 88 | KHATIJA FATIMA | MOHAMMED MOINUDDIN |
| 89 | MAHERA AFREEN | ARSHAD ZAHEER KHAN |
| 90 | MALIHA FATIMA | SYED MASIULLAH |
| 91 | MASEERAH TASNEEM | ABDUL RAHEEM |
| 92 | RAKINA KAMAAL | MOHAMMED RIZWAAN |
| 93 | SAFA SIDDIQI | MOHAMMED HAMID ALI SIDDIQUI |
| 94 | SAIMA FATIMA | MD. MAZHAR |
| 95 | SALWA SHEEREEN | MUHAMMED SARWAR |
| 96 | SHAFIA IRAM | MOHD ABID ZAHEER |
| 97 | SHAHEEN FATIMA | KHAJA MOHI UDDIN |
| 98 | SIDRA ATIQA | MOHAMMED AKBER KHAN |
| 99 | SIDRA HUSSAINI | M.A RAHEEM |
| 100 | SUMAYYA FATHIMA | MOHAMMED ALEEM UDDIN |
| 101 | SYEDA AMTUL BUTUL | SYED ALI ABBAS QUADRI |
| 102 | SYEDA AYESHA KHUNDMERI | S MOHD QASIM |
| 103 | SYEDA AZKIYA BUTOOL | SYED SAMIUDDIN |
| 104 | SYEDA KHADIJA AMENA | SYED SAMIUDDIN |
| 105 | SYEDA ZAINAB UNNISA | SYED IMAD HUSSAIN QADRI |
| 106 | ZEHRA AFREEN | MOHAMMED ABDUL HAFEEZ |
| 107 | ZUBIYA ZAREEN | MOHAMMED AKRAM KHAN |
| 108 | NABILA EMAAN | MOHAMMED ABDUL QUDDUS |
| 109 | NABINA NAAZ | MUHAMMAD NAJEEB UDDIN |
| 110 | ZAINAB FATIMA | MOHAMMED WAJAHATH ULLAH |
| 111 | ZAINAB KHAN | MOHAMMED AMER KHAN |