MS IAS Academy Entrance Test Date Extended
Managing Director Anwar Ahmed announced new date
The Entrance Test will be conducted on 30th July 2023
MS Education Academy has announced the new date for the entrance test of MS IAS Academy's upcoming batch! The entrance test for the selection of the new batch will now be held on Sunday, July 30th, instead of the previously scheduled date of July 16th.
Anwar Ahmed, the visionary Managing Director of MS Education Academy, enthusiastically shared the revised date for the entrance test. Anwar Ahmed stated, "Inspired by the remarkable achievements of our exceptional students, Mohammad Burhan Zaman, Mohammad Faizan Ahmed, and Mohammad Haris Sumair, in the previous civil services examinations, with unwavering determination, our academy is fully equipped to offer unparalleled training to the 7th batch of UPSC Civil Services aspirants."
The coaching program provided by MS IAS Academy for the UPSC Civil Services examination, and the best part? It's absolutely free, including accommodation! The aspirants may immerse in our comprehensive preparation program, encompassing objective and subjective tests, as well as an interview. The entrance test, scheduled for July 30th, 2023, will be conducted in over 80 centers spread across 23 states. It is a written paper, comprising 300 marks, including captivating multiple-choice questions, thought-provoking short answers, and insightful essays on current affairs. To be eligible, aspiring candidates must hold a graduation degree and fall within the age range of 21 to 27.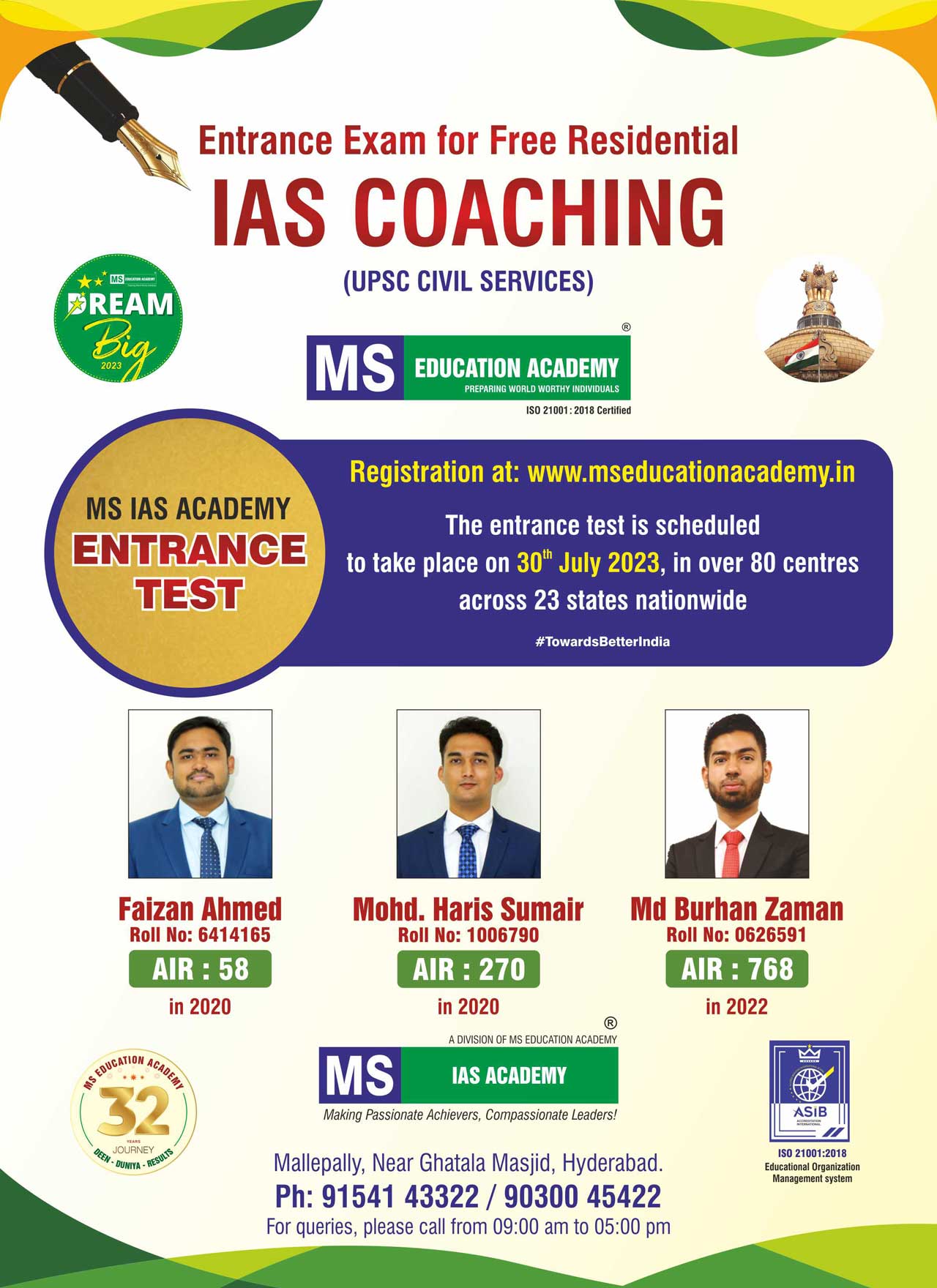 With unyielding passion, Anwar Ahmed, the esteemed Managing Director of MS Education Academy, calls upon all zealous individuals to seize this golden opportunity. He earnestly encourage aspirants to take full advantage of this remarkable facility, designed to nurture potential. The entrance test for MS IAS Academy's prestigious UPSC Civil Services coaching program is set to take place on Sunday, July 30th, 2023. We have established multiple test centers in Telangana, specifically in the vibrant areas of Hyderabad (Masab Tank, Malakpet, and Shah Ali Banda), Nizamabad, Karimnagar, Mahbubnagar, Warangal, Sadashivpet and Adilabad.
Interested candidates are invited to register for the entrance test, by simply visiting our website, www.mseducationacademy.in there you will find the online registration form, which contains complete list of examination centers across India.
Should you seek further guidance or have any queries, our dedicated team is ready to assist you. Feel free to reach out to us via email at [email protected] or give us a call at 91541 43322 and 90300 45422 from 9:00 AM to 5:00 PM.