MS is a confluence of Modern and Islamic Education – Maulana Salahuddin Saifi Naqshband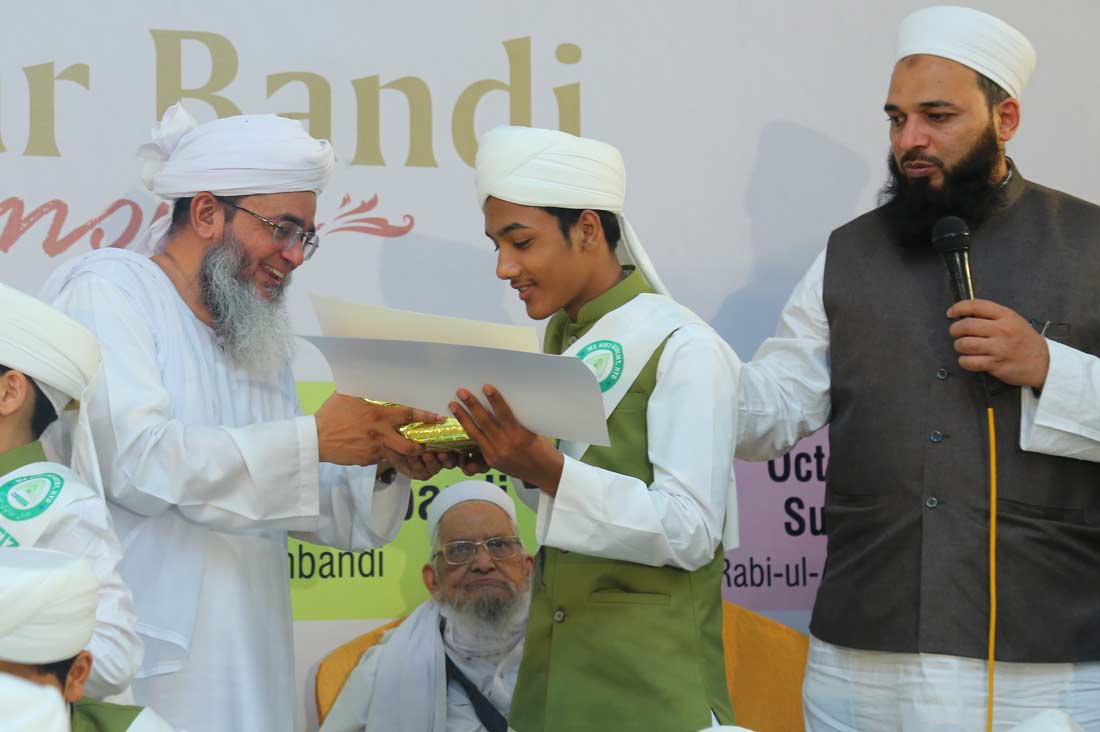 Hyderabad: The renowned Islamic scholar Maulana Salahuddin Saifi Naqshband described MS "a confluence of Modern and Islamic Education where students are imparted Uloom e Deeniyat (theology) alongside the school and college education". He opined this at the 4th convocation programme of MS Hifz Academy held at Banjara Function Hall on 31st October 2021.
Appreciating the endeavour of MS, he said "MS is an institution that imparts modern education and its efforts to produce Huffaz is praise worthy. He congratulated the management and teachers of MS for this praiseworthy initiative. "It is a praise worthy endeavour to produce Huffaz at this era of distractions, remarked Maulana Salahuddin Saifi Naqshband.
The programme was presided over by Maulana Mohammed Bin Abdur Raheem Banayeem. Maulana Tayab was also the Guest. Throwing light on the importance of memorising the Holy Quran, he said the status of Huffaz and their parents are elated in the eyes of Allah. In the hereafter the Huffaz will be in the company of Prophets and this group head will be Prophet Mohammed (PBUH). When the Huffaz recite the Quran, thousands of angels spread their wings on them.
He advised these young Huffaz not to be impressed with the big cars and huge bungalows of the rich and from their wealth. Never seek those wealth nor feel inferiority complex. Allah has given you such wealth whose value is huge than any other wealth of the world. He also advised them to keep their tongue clean from lies, eyes from watching forbidden objects, keep their body pure and avoid haraam food, keep the heart free from greed and lust.
Making them realise their importance, he said the presence of Huffaz in any gathering makes it bright. People come to them with requests to do supplication for them.  He also praised the parents and said the role of parents, especially mothers, is very important who always encourage their children. It is almost difficult to complete the memorisation of the Quran without the support of the parents.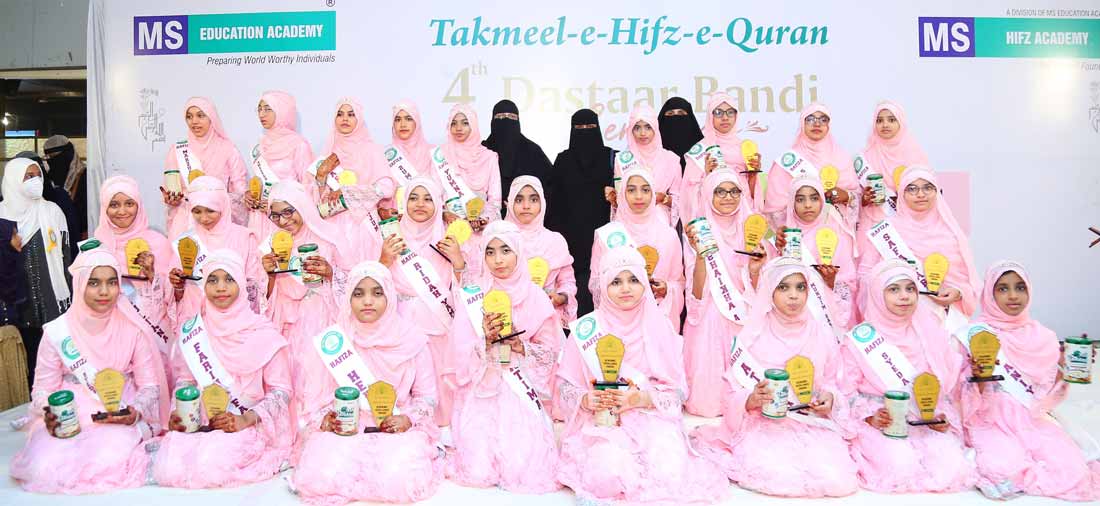 Maulana Baneem presided over the programme. In his address, he threw light on the rapid degradation in society in the name of Rabi ul Awwal. He exhorted the people not to tarnish the image of Muslims and Islam through bike rally, DJ song and like other evils. "Showing your love to Prophet Mohammed (PBUH) through these acts is wrong. If you want to show love to Prophet Mohammed (PBUH) then practice his teaching in your daily life and refrain from bad deeds". Maulana Tayab was also one of the guests. He spoke on the importance of reciting and memorising the Quran. He blessed these young students and prayed for their bright future.

Chairman of MS, Mohammed Abdul Lateef Khan praised the parents of passouts of MS Hifz Academy. The hard work and motivation played an important role in the completion of Hifz of these students. He also announced plans to start two new branches of MS Hifz Academy, one in Tolichowki and another at Jahannuma.
This year 114 students including 27 Girls, completed Hifz-e- Quran. Hundreds of parents and wellwishers attended this grand convocation programme, held on 31st October, at Banjara Function hall, Banajara Road, Hyderabad.
MS Hifz Academy was started in April 2015 and till now 5 batches have completed Hifz-e-Quran from here. This year it was the joint convocation programme of 4th and 5th batches wherein 114 students including 27 girls conferred degrees of completing the Hifz-e-Quran. Till now total 189 students completed Hifz-e-Quran from the MS Hifz Academy.