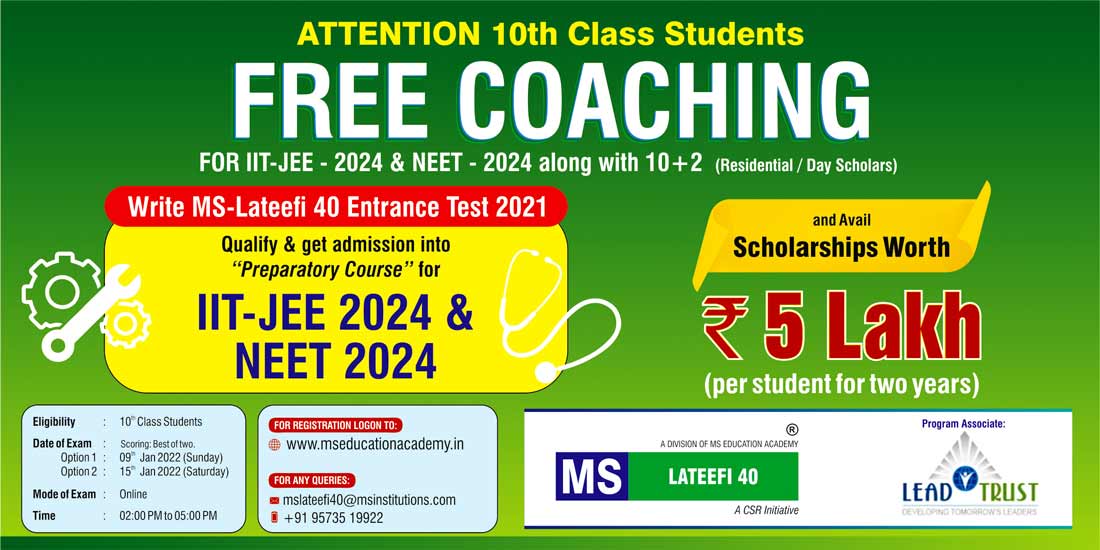 MS offers Scholarship Worth ₹5 Lac
Conducts MS Lateefi-40 Entrance Test for IIT/NEET Coaching
Hyderabad: Catch them young, with this concept in mind MS has started the talent search initiative to select meritorious students to give them intensive coaching for IIT and NEET examination. So that they can crack the 2024 IIT/NEET examination in first attempt and secure seats in premier institutions like IIT/AIIMS and other top medical and engineering colleges.
The selected candidate will be given scholarship worth ₹5 Lakhs for coaching and intermediate examination.
Students from any part of the country can attempt this selection test of MS Lateefi-40 which will be conducted online on 9th and 15th of January 2022 from 2pm to 5pm.
The students can write the test on any of the two dates as per their convenience. To make the student comfortable with the syllabus pattern, a mock test will be organised on 2nd of January 2022.
The eligibility criteria for writing this test is Class X. If qualified, both the written test and interview, he/she will be given free admission for comprehensive coaching for IIT-JEE/NEET. Alongside, the selected candidates will also be prepared for Intermediate examination.
MS is running this free IIT-JEE/NEET coaching under its Khidmat Initiative and named it MS Lateefi-40. It is a residential coaching programme with limited seats for day scholars.
The registration for the test can be done on MS website: www.mseducationacademy.in or Click Here
The efforts of MS has produced satisfactory results: 125 students have got seats in various IITs and 1530 have got MBBS seats.
For more details about admission procedure, please contact through email: [email protected] or telephone +91 95735 19922.
MS Lateefi-40 Flyer: Click here