MS Plan Splendid Tribute to Teachers
Organizes 10-day long program
Teachers deserve our gratitude and respect. They dedicate their lives to teaching children and guiding them through life. In return, they receive little recognition.
MS Education Academy had planned to pay tribute to the teachers with a ten-day long program. To brief about the events of the program a press conference has been organized at the corporate office of MS.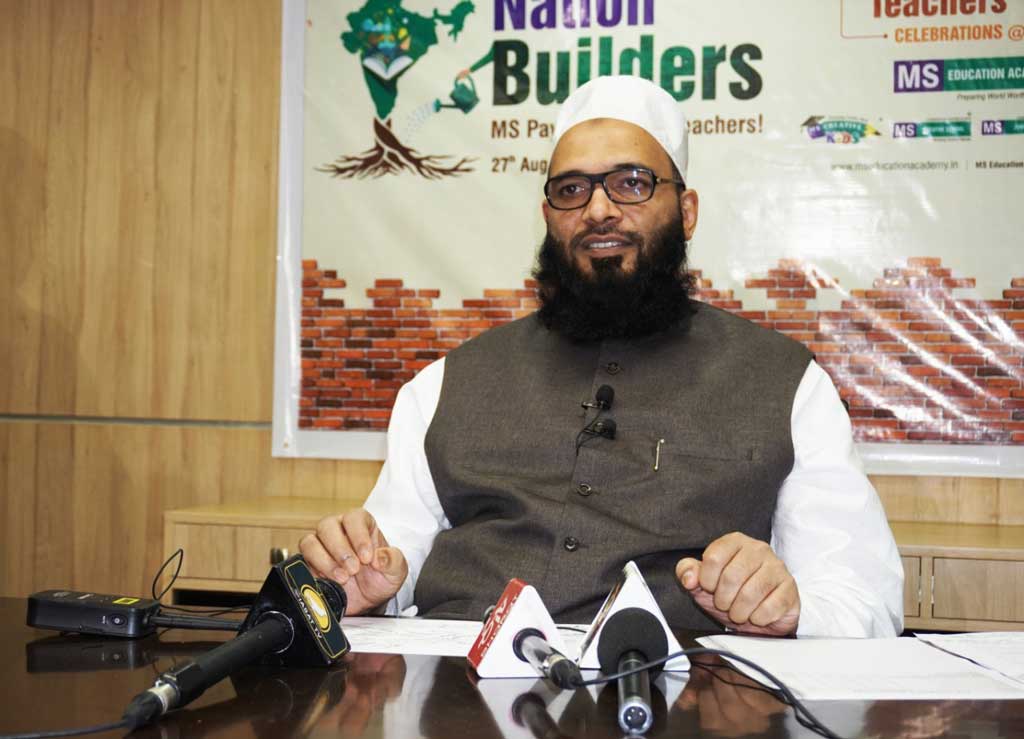 Speaking on the occasion Mohammed Lateef Khan, Chairman of MS Education Academy said, as an Educational Institution, we had planned to pay tribute to teachers by showing them the qualities of our best teachers. We named this program "Nation Builders". At present 1770 teachers are working with us.
The objective of this campaign is to inspire young teachers and students and create a sense of respect and understanding between teachers and students.
Keeping this plan in mind we have organized a 10 Days long celebration which includes events which recognize the services of teachers and reward them. The campaign will start on August 27 at all our institutions with a red-carpet welcome for teachers and this will end on Sep 05, on Teacher's Day.
During this 10 days events, different games and activities like 'Pot Luck' and 'Role Reversal' will be organized so that a stronger relationship can be built between our students and teachers.
We are planning to reward our teachers by sending them for UMRAH. This year, 25 teachers will be selected by way of a draw. They will be going along with their spouse for their pilgrimage.
A Teachers' Welfare Fund will be created with rupees ten lakhs contribution from the management of MS. The fund would be utilized to help our teachers on different occasions such as daughters' marriages, Children's higher studies or any medical emergency. The fund also covers teachers suffering from serious ailments. We are encouraging our one lakh alumni to contribute to the fund. We also welcome contributions from our existing students.
We provide a 50% concession in fees for the children of teachers working in MS institutions.
A grand function would be held on 5th September to commemorate Teachers Day. All our teachers will be honoured with gifts, awards and certificates, on the other hand, the senior teachers with more than ten years of experience will be felicitated. A medical checkup campus is there for the teachers. For this 10-day event, a budget of one crore rupees has been fixed by the MS.