MS Super Heroes get warm welcome at Alma Mater – Another feather is added in MS's cap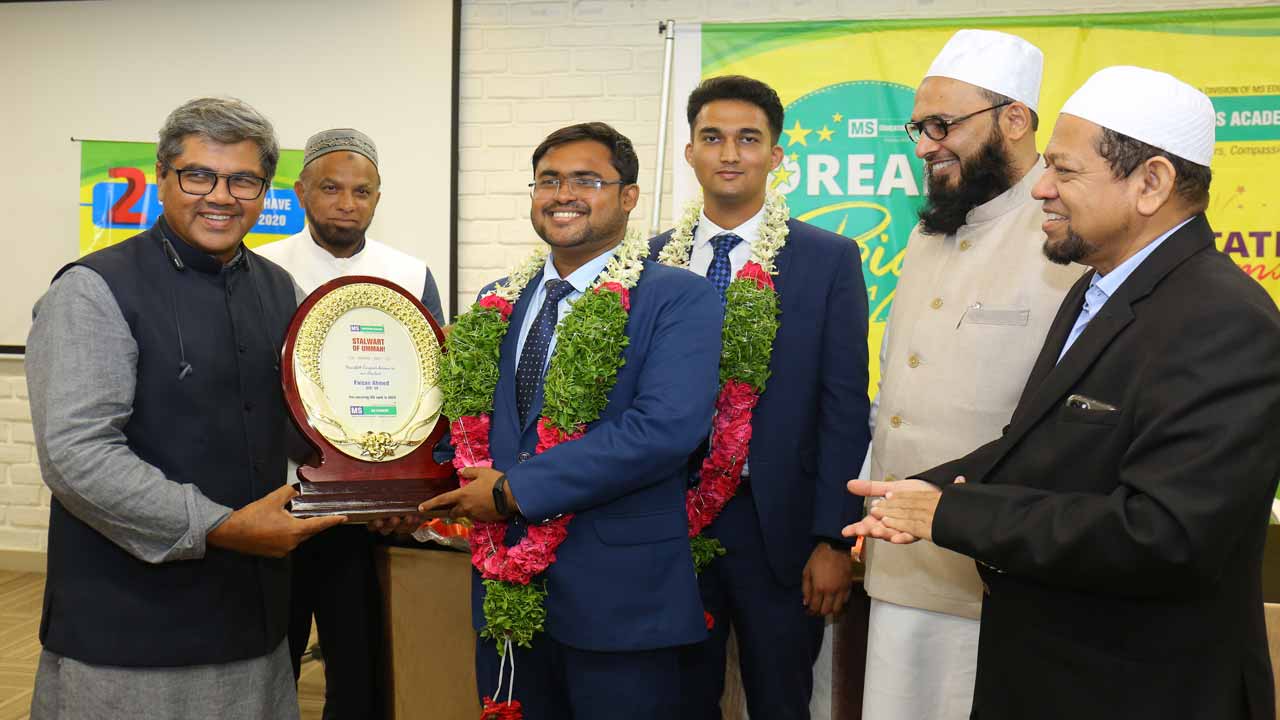 Hyderabad: Two super heroes of MS IAS Academy cracked the UPSC Civil Services Examination 2020 with All India 58 and 270 ranks got a red carpet welcome at their alma mater today. The MS Education Academy organised a two day gala programme "DREAM BIG 2021" in their honour to felicitate them and their pa rents. Red carpet was rolled out to welcome the two Achievers Faizan Ahmad and Mohd. Haris Sumair as they reached their alma mater with their family members.
Senior Director Dr. Mohammed Mouzzam Hussain addressed the audience about 'MS IAS ACADEMY' and said 'we select students through an All India entrance test every year and provides Free coaching. It is a residential coaching academy where boarding, lodging and coaching is provided with absolutely no fee charged'. The entrance test of 2018 was conducted in 23 cities; Bidar and Tonk (Jaipur) were also among the centers from where they got selected for the coaching. Both of them are from 2018 batch of MS IAS Academy. They appeared in the MS IAS Academy Entrance Test in 2018 and got selected for the free coaching.
While addressing the audience, Managing Director Anwar Ahmed said that it is interesting to mention here that Mr. Faizan Ahmed topped the 2018 MS Entrance test. He was number one in the merit list and Mr. Mohd. Haris Sumair was at 10.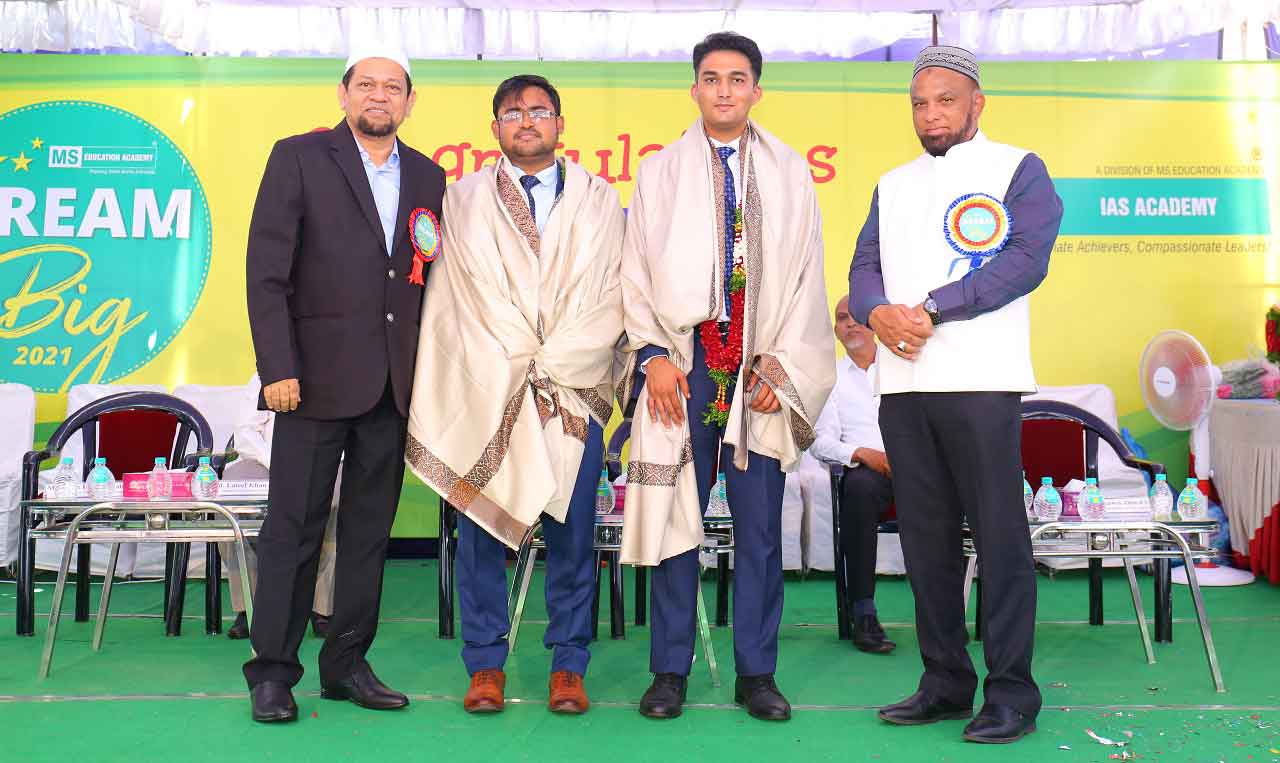 He further added that MS IAS ACADEMY is a Khidmat (CSR) initiative of MS Education Academy started in 2017 as a contribution towards nation building. It was started in 2017 and since the first year students started cracking prelims and on second year student qualified for mains and also for interview but this year they finally cracked all three stages and thus selected for the IAS.
Another feather of MS it was tagline of the hoarding of MS IAS Academy and today the result made the tagline come true. After delivering results in Medicine, Engineering, Chartered accountancy and now it is in the Bureaucracy as well.
Faizan Ahmed, the All India 58 rank holder addressed the audience and said that they need have complete confidence on themselves and keep complete focus on their goal and definitely they will get success.
There is a big role of MS that I am here and standing before you. I was preparing for IIT Advance but I could not succeed in it. At that time I saw an advertisement on WhatsApp about free coaching from MS. I applied for it and wrote its entrance test. I got good marks in the test and this way I got admission. The guidance of MS helped me to get success and today I am in front of you as an IAS officer.
On the occasion of his son's whopping success, Md Naeem Uddin father of Mohd. Haris Sumair said that he comes from Bidar – a town from Karnataka and this is the first time I am addressing a gathering in Hyderabad and my sons Md Nadeem udddin is serving as an IPS officer and the second son Mohd. Haris Sumair is now selected for IAS. He further added that his elder son Md Nadeem Uddin is the first Muslim from Bidar who got selected in UPSC after independence.
He thanked MS Education Academy for the support provided to both his sons in achieving their goals. He said that he is happy to be sitting in the premises of the same building where Haris spent a lot of time in preparation of the examination.
Addressing the students and their parents, he suggested that money is not the criteria for UPSC readiness but positive thinking and consistent hard work is what matters.
Expressing his views on the success of Faizan Ahmed, his father Ahsan Ahmed said that 'in our family, we always encouraged our children and even in their failure we counselled them that failure is a stepping stone for success. In IIT Advance when Faizan failed, we told him that you have been made for something big which enhanced his self-confidence and today he is in this position.
Mohd. Haris Sumair who achieved 270th rank suggested the students to keep complete faith in themselves and those who walk on this path will reach their destination. Mohd. Haris Sumair also said that you always should have positive thoughts and if you have this mindset you can overcome any obstacle.
He suggested students to have complete faith on Allah SWT and also in their abilities. He said through education only we can bring a change in our community and the society. He advised the students that they should dream to become an IAS officer to serve the society. Advising the parents he told them to also focus on extra-curricular activities and sports as it is very important after the hard work put by them in studies.
During the press meet, Chairman of MS Education Academy Mohammed Lateef Khan announced to sponsor the Umrah package for parents of both the IAS heroes as a gift from the organization.