MSian SCORE 97.67% IN CBSE CLASS X
Faris Mohiuddin Siddiqi, CBSE 10th Class Topper of the Unnao District has been felicitated for his outstanding achievement
As last year, this year also in CBSE, the student of MS Super International School scored the highest marks in class 10 in Unnao District of Uttar Pradesh.
Faris Mohiuddin Siddiqi, son of Mohammad Mohiuddin Siddiqi is a student of MS Super International School located in Unnao district of Uttar Pradesh, is the topper of his district in CBSE Class 10 Exam in the current Academic year 2022-23, he had scored 97.67 % marks.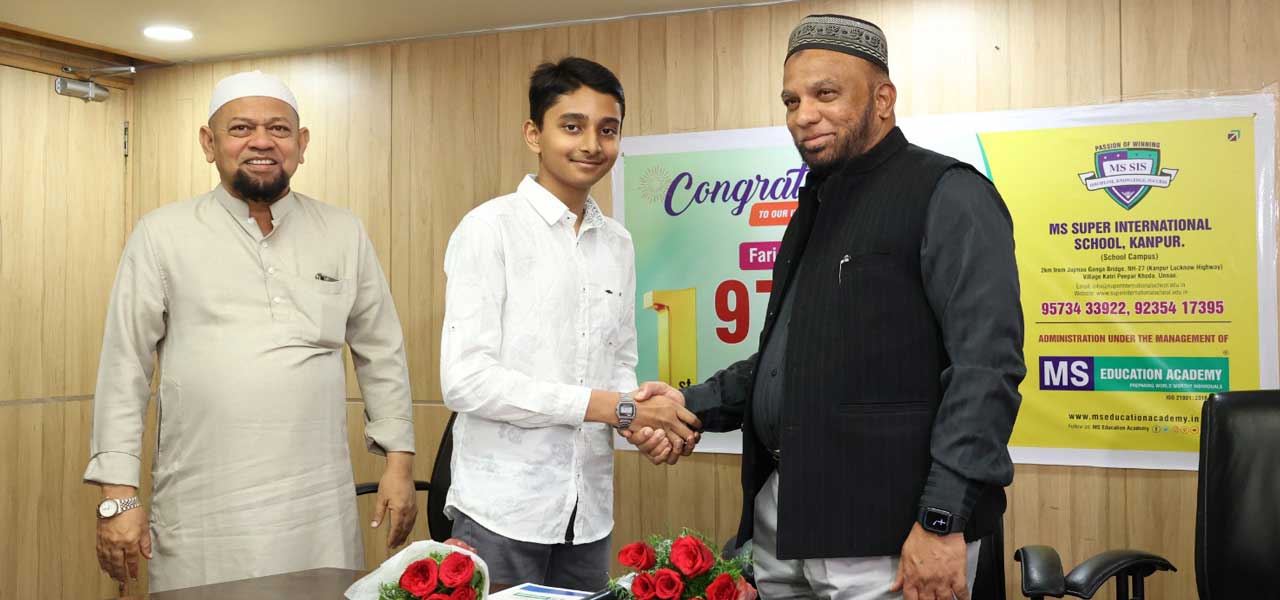 On his achievement, MS Management encouraged Faris Mohiuddin Siddiqui and congratulated him at MS Education Academy Corporate Office, Masab Tank in Hyderabad.
On this occasion, MS Education Academy Managing Director Anwar Ahmed congratulated the student Faris Mohiuddin by presenting a bouquet and certificate of excellence for topping CBSE 10th Class Exam and congratulated his parents.
Anwar Ahmed added that like last year, this year also the student of MS Super International School has topped the CBSE in Unnao district. The Managing Director further said that Faris Mohiuddin secured 100 out of 100 in Mathematics for which he expressed pride. He hopes that Faris Mohiuddin would register great success in NEET exam in coming time.
On this occasion, Senior Director Moazzam Hussain also congratulated Faris Mohiuddin and praised him. He expressed happiness that MSian become the class 10th topper of Unnao District of Uttar Pradesh. He hoped Faris would continue his studies in MS to brighten his future and said he would set records in the NEET exam.
Faris Mohiuddin Siddiqui himself expressed his gratitude to Allah and thanked MS Education Academy on this occasion and said that he has been studying in MS from fifth standard. He especially thanked his teacher Mr Shamsher, his other teachers and management. He further said he would continue his studies at MS and will seek to join AIIMS or any prestigious national institution of Medicine by competing through NEET exam.
Currently, Faris is staying in Hyderabad and he is a part of MS Lateef-40 program, which provides intermediate course with integrating coaching of NEET. MS Education Academy Zonal Director Nizamuddin and Academic Director Dr. Syed Hameed were also present at this event.