MSians Excellent Performance in NEET 2021
Mishal Afroze Ahmed tops the list with 667 Marks
Hyderabad: MSians successfully cracked the UG-NEET 2021 with excellent marks. Six of them performed excellently and got marks over 600. They achieved this success overcoming the hurdles that came on their way in the form of Covid 19 restriction. Most of the achievers scored 99 percentile marks. Mishal Afroze Ahammed (HT. No. 2808001062) with 667 marks topped the list of achievers. He scored (99.63) percentile in Physics, (99.97) percentile in Chemistry and (99.80) percentile in Biology. His total percentile was 99.87 in the NEET 2021.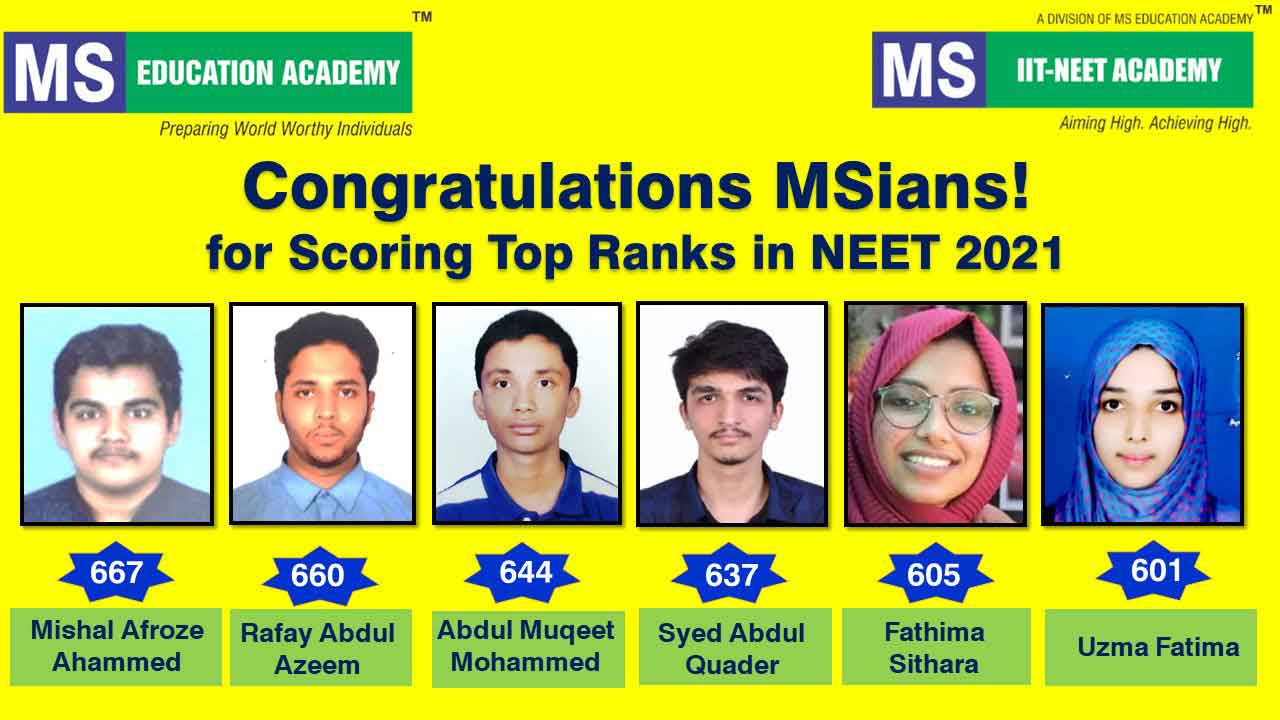 The other toppers who made a mark in the list of achievers are Rafay Abdul Azeem (HT.No.:4201111051), Abdul Muqeet Mohammed (HT.No.:4201010128), Syed Abdul Quader (HT.No.:4201001690), Fathima Sithara (HT.No.:2808015210), Uzma Fatima (HT.No.:4201016020) All of them scored over 600 marks.
1) Rafay Abdul Azeem scored 660 marks with 99.82 percentile
2) Abdul Muqeet Mohammed got 644 marks with 99.66 percentile,
3) Syed Abdul Quader scored 637 marks with 99.56 percentile,
4) Fathima Sithara scored 605 marks with 98.89 percentile and
5) Uzma Fatima scored 601 marks with 98.79 percentile.
Apart from them dozens of MSians also got excellent marks. MS management congratulated the achievers and hoped that they would serve humanity with their skills.