MS in the Eye of its Student
MY SCHOOL
I always go to my school with a smile. My school's name is MS Creative School. My school is located in the heart of Hyderabad city where transportation is easily accessible.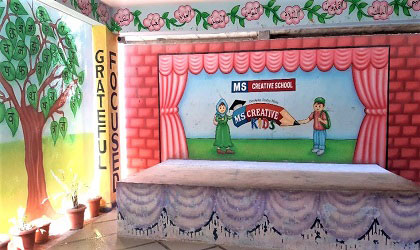 All the staff of my school especially our Principal and our teachers are very friendly and helpful. They use the easiest and logical method to teach us which makes learning fun for us. Every doubt raised by the child is dealt with utmost patience and willingness. This helps to develop a positive student-teacher relationship. Along with modern studies, Islamic studies are also taught which helps us to become a better individual.
We have a huge playground at school and a sports instructor too who helps us learn the games and its rules as 'A healthy body leads to a healthy mind'.' There are lots of indoor games too like chess, carroms, snakes and ladders.
In this modern world of technology, we have latest computers which help us to grow intellectually. The library of the school has a vast and variety of books on all subjects as well as story books too to improve our communication skills. So, today's reader is tomorrow's leader. Thus my school is the best school as it lays a stepping stone to my success.
S. Fazeelath
Class VII-G
Note: This article is taken from MS World July 2015 edition.