Tiny Tots Graduation Day Ceremony
Hyderabad: The tiny tots of MS Creative Kids presented numerous wonderful performances at their Graduation Day Ceremony and earned huge accolades by the parents.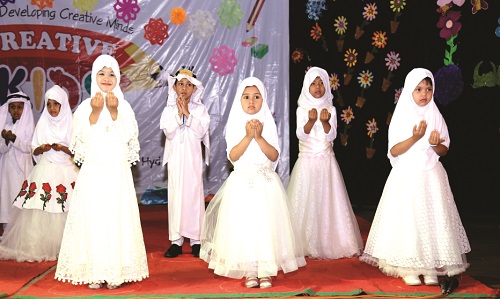 The 3 day colourful programme, organized at Bhartiya Vidha Bhawan, Basheer Bagh on 27th to 29th March 2018, was attended by hundreds of parents. During the 3 Days programme the kids presented short skits, nazam and colorful dance. Donning uniform of Armed forces, the little MSians presented skits on patriotism and performed the role of Armed forces. A few of the skits and nazams were quite heart touching.
They were awarded certificates and key of success. The Graduation Day is a unique event of MS. To make the students feel the taste of success, they were awarded certificates on their completion of the pre-primary stage. The programme concluded with the singing of national Anthem.