Winds of excellence from MS Junior College!
Soothing parents, teachers and community at once
Dr. Syed Misbahuddin
Hyderabad: Perfection is a myth but what we can achieve is excellence. Thanks to Almighty, MS Education Academy proved it time and again. Starting with a baby step in 1991, MS has been meeting all challenges to push community's expectations further by delivering exceptional results. 27 years on MS stands tall with humility, excellence and vision. Bagging State 1st rank this year not only in Intermediate First year with 437 out of 440 but also in Intermediate Second year with 991 out of 1000 is a testimony to this claim.
To bolster further, it's not just couple of ranks but a saga of achievement with more than 14 students scoring 99% and above, 134 students above 98%, 625 students above 95% and 1252 students breaking the boundaries of 90% and above.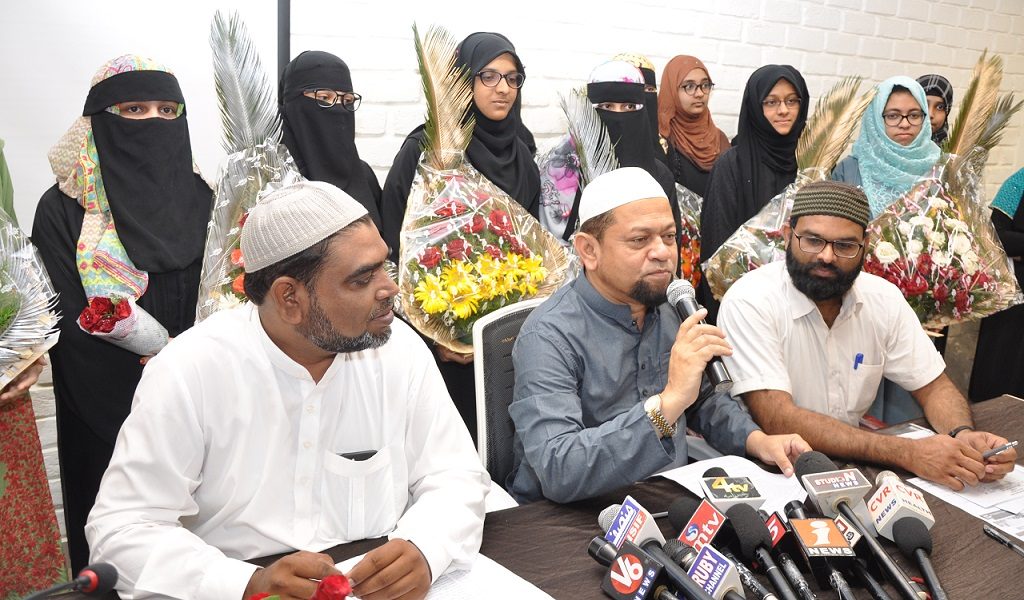 Director Afzalur Rahman reported that Sania Fatima d/o Abdul Waheed (HT No. 1860116102) scored 437/440 while Sara Zareen d/o Zahooruddin (HT No. 1860117858), Tazakka Juwana d/o Abdul Jabbar (HT No. 1860119122), Summaiya Mohsin d/o Md Jahangir (HT No. 1861137543) and Zeba Banu d/o Aijaz Ali Khan (HT No.1861137539) scored 436/440 each in Intermediate I year.
In Intermediate II year, Umme Mohimeen Saimah d/o MA Ahad stood state 1st (HT No. 1860219174) by scoring 991/1000, MOHAMMED ABDUL MUBEEN s/o MA Rasheed (HT No. 1861210810), Ashraf Rabia d/o Dr. M. Khalilullah (HT No. 1860219206),
Shafaqath Fatima d/o Mirza Sadathullah Baig (HT No. 1860213756) scored 989/1000 each while Alia d/o Md Nayeem Jalal (HT No. 1860215364) scored 988/1000 and Mohd Nadir s/o Mohd Hameed (HT No. 1861234111) scored 987/1000 marks. While relating the hardships of students Senior Director Moazzam Hussain mentioned many unbelievable stories of setting records, busting myths and breaking boundaries to stand tall against all odds in their difficult lives.
It's not sheer luck rather fruits of a passion driven system that is based on handpicked faculty, minutely crafted schedule with trackers, deeply researched study material, committed Management and potential students commented Associate Director Sadiq Ali. While motivating students in valedictory function he mentioned, the entire system is tuned to identify varying talent, interest and aptitude of the students and designing individualized study plan for them to perform accordingly.
In this utopian inspired society, where everyone wants to be a topper, we believe in imparting values and spirit to sacrifice. We train students to be contributors by helping them dedicate sometime for literacy campaign, patriotic activities and social service thereby 'preparing world worthy individuals'.