World Blood Donor Day is an annual global event observed on the 14th of June. It serves as an occasion to raise awareness about the importance of voluntary blood donation and to acknowledge and thank blood donors worldwide for their life-saving contributions. The event was established by the World Health Organization (WHO) in collaboration with the International Federation of Red Cross and Red Crescent Societies (IFRC) to emphasize the critical need for safe blood and blood products.
Participating in World Blood Donor Day is not limited to just donating blood. One can also contribute by organizing or attending blood donation drives, sharing information about blood donation on social media platforms, volunteering at local blood banks, or encouraging others to become regular blood donors.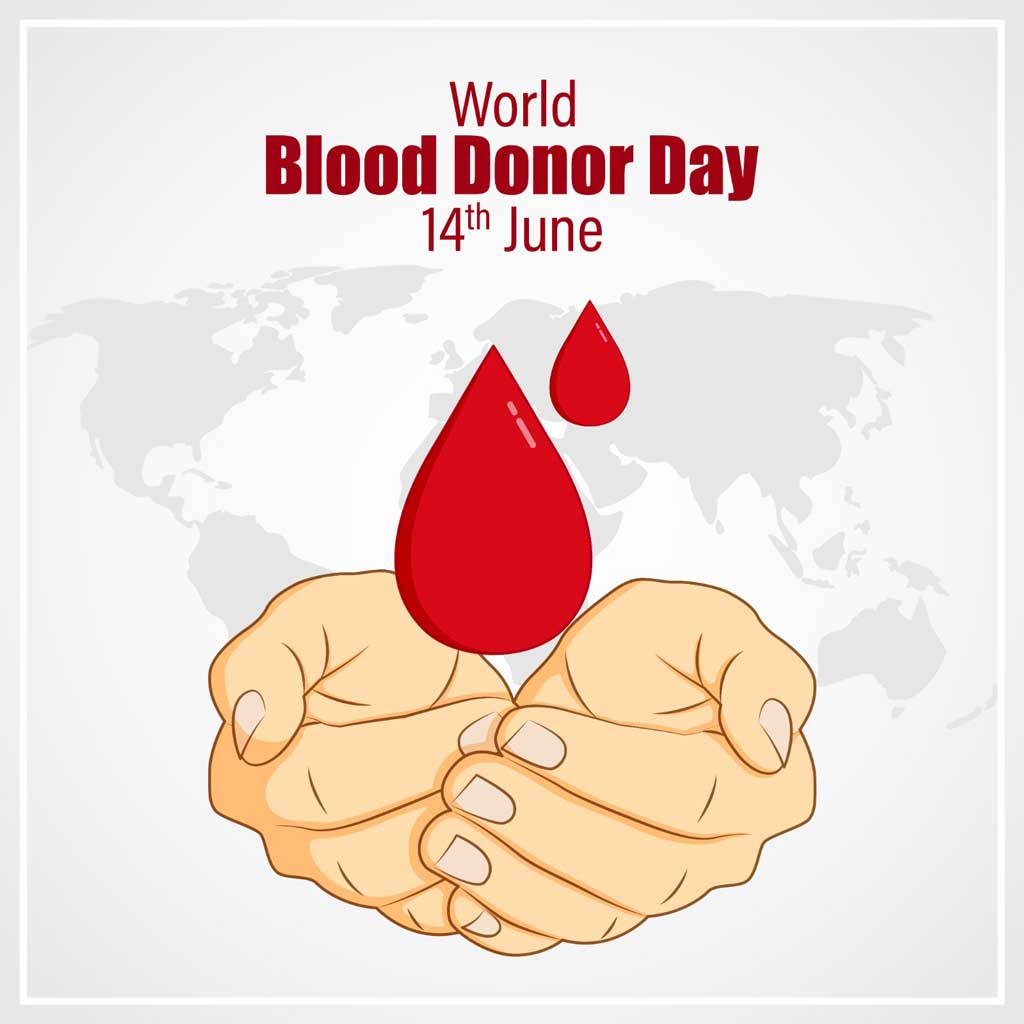 Health Benefits for Blood Donors: Donating blood offers health benefits to the donors themselves. It stimulates the production of new blood cells, reducing the risk of certain diseases and conditions such as hemochromatosis, a disorder caused by excess iron accumulation. Additionally, donors receive a free health screening that can help identify potential health issues.
World Blood Donor Day Celebration in India: Like in many other countries, India also celebrates this day on the 14th of June every year. In India, World Blood Donor Day is observed through various activities and initiatives organized by government bodies, healthcare organizations, non-profit organizations, and blood banks. These activities aim to encourage more people in our country to donate blood regularly and promote the availability of safe and adequate blood supplies across the country. On this day, blood donation camps are often set up in different locations, including hospitals, schools, colleges, community centers, and workplaces.
Some facts on blood donation in India: A study in 2022 highlighted the eligible donor population in India at 40 crore app. The supply was estimated at 33.8 donations against the demand of 36.3 per thousand donations creating a shortage of one million units annually. But we can say that awareness has increases as the number of voluntary blood donors increased from 54.4% in 2006–2007 to 83.1% in 2011–2012.
MS Education Academy organized a blood donation campaign for thalassemia patients in its Corporate Office in Hyderabad in a recent year.
MS set up a camp to provide a convenient and accessible platform for individuals to donate blood. Additionally, we strive to create awareness among the general masses of Hyderabad through our social media platform or in educational institutions to educate the students and parents about the importance of blood donation and dispel any misconceptions or fears associated with it.
Remember, World Blood Donor Day in India is an opportunity to make a positive impact on the lives of others. By donating blood or contributing to awareness campaigns, you can help ensure a safe and sufficient blood supply for those in need and potentially save lives.
Written by: Mohd. Talib Khan