MS Honors 55 Hafiz-e-Quran students who Outshine in SSC Exam
Eight Girls are among them
They are the perfect example of achieving Deen & Duniya: Chairman Mohammed Lateef Khan
This year from MS Creative School 55 Hafiz-e-Quran students have passed the 10th class examination. Among these students, 36 students have completed their Quran memorization course from the MS Hifz Academy while continuing their education at MS Creative School. Among them, Hafiz Mohammed Abdul Muheeth Simal has scored a perfect 10/10 cGPA in SSC.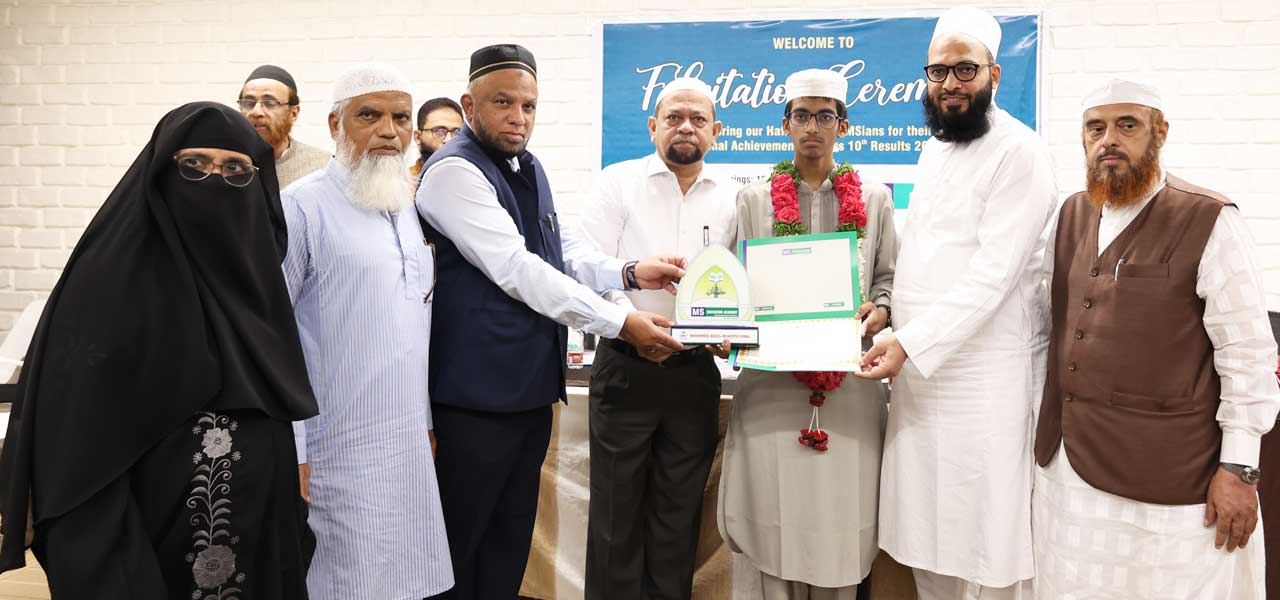 A function was organized at the MS Education Academy Corporate Office to honor these 55 successful students of the 10th Class and in this function their parents were also invited. On this occasion, students were garlanded with flowers and given an appreciation certificate along with a souvenir.
MS Education Academy Chairman Mohammed Lateef Khan while addressing the successful students and their parents, congratulated the parents and said that the most important role in the success of these students is of their parents. Also, he congratulated Huffaz for achieving success in the class 10th board exam, he said these students are an example of achieving success in both (deen and duniya) religion and the world.
Mohammed Lateef Khan while enlightening about MS Hifz Academy said that the academy has a system to complete memorization in two years. A girl student from here has completed memorization of the Quran in just 9 months and many students have completed memorizing the Quran in less than a year. The Dastarbandi ceremony of MS Hifz Academy will be celebrated every year on the 15th of August. So far 189 students have completed Quran memorization from the MS Hifz Academy.
MS Managing Director Anwar Ahmed, Senior Director Dr. Mohammed Moazzam Hussain and Maulana Mohammed Abdulraheem Ba Naeem also addressed the students. MS Vice-Chairperson Nuzhat Sofi Khan also participated in the event and distributed souvenirs and certificates to the girl students. Director Mohammed Ghousuddin coordinated and acted as a host of the event.