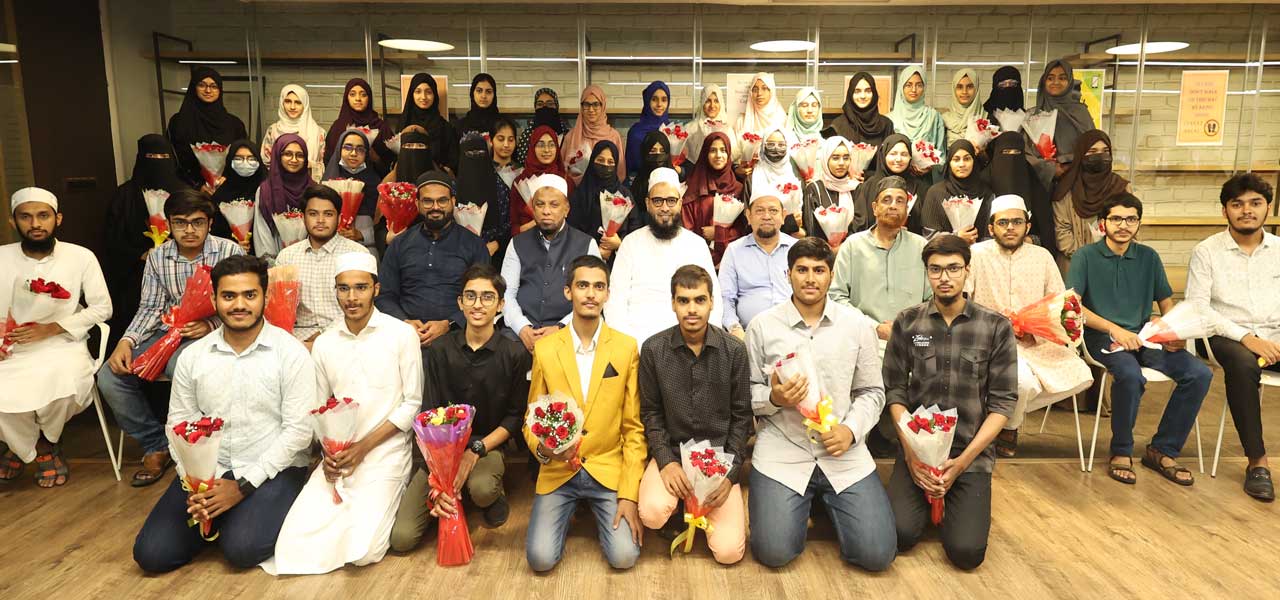 OUTSTANDING PERFORMANCE OF MS JUNIOR COLLEGE STUDENTS IN NEET 2023
Six MSians scored above 600 marks and 58 scored above 500
Strong Hope for 169 MSians to Get Free Seat in MBBS
The students of MS Junior College have once again demonstrated their exceptional abilities in the NEET-UG 2023 examination. Hafiz Syed Abdul Raheem Shakoor, a student of MS Junior College, has achieved a remarkable feat by scoring 670 marks in this prestigious national-level entrance examination. It is noteworthy that he successfully completed the Quran memorization course within an impressive span of 22 months at the MS Hifz Academy. Following his accomplishment in Quran memorization, he continued his educational journey by completing SSC at MS Creative School before pursuing Intermediate studies at MS Junior College.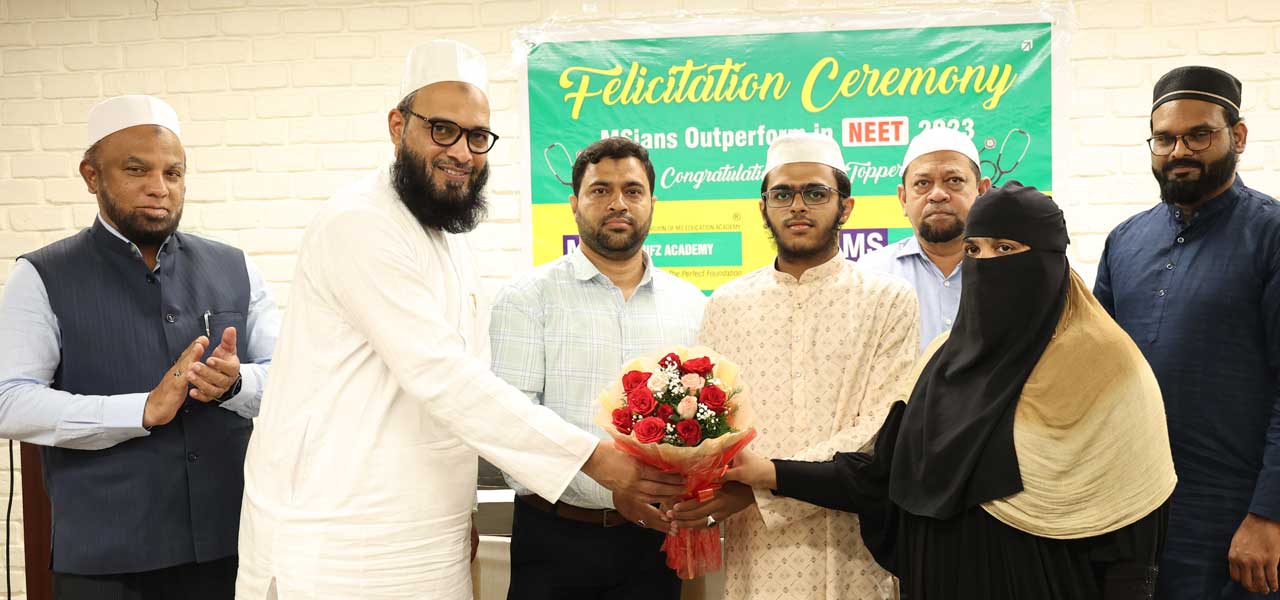 Along with Hafiz Syed Abdul Raheem Shakoor, five other students from MS Junior College also have attained scores above 600 marks. The following students have showcased outstanding performances:
| Rank | Student Name  | Father's Name | Hall Ticket  |
| --- | --- | --- | --- |
| 670 | SYED ABDUL RAHEEM SHUKOOR | S.A. RAHMAN | 4201100536 |
| 665 | SYED ABDUL BASIT REHAN | SYED MOINUDDIN | 4201090141 |
| 650 | SIYANA VP | ABDUL HANEEFA | 2808140318 |
| 647 |  MOHAMMED ABDUL MALIK | MOHAMMED ABDUL HAMEED | 4201020202 |
| 624 |  AMARA FATIMA | MOHAMMED REHMAN ALI | 4201160293 |
| 604 | IBRAHIM MOHAMMED ABDUL BASITH | MOHAMMED ABDUL BASITH BARI | 4201130010 |
Out of all the students from MS Junior College, an impressive number of 109 students have scored above 450 marks. This year, there is a strong hope that 169 MS Junior College students will secure free 'A' category seats in the MBBS course. To honor the achievements of the 58 MS Junior College students who have scored above 500 marks in NEET, a felicitation ceremony took place at the MS Education Academy Corporate Office in Masab Tank, Hyderabad. The event was attended by the students and their proud parents.
During the ceremony, Mohammad Lateef Khan, Chairman of MS Education Academy, addressed the NEET-UG 2023 toppers and extended his heartfelt congratulations to both the students and their parents. He specifically praised Hafiz Syed Abdul Raheem Shakoor for his remarkable score of 670 in NEET-UG 2023 and conveyed his warm wishes to the student's parents.
Chairman Mohammed Lateef Khan highlighted that MS Education Academy has successfully admitted 1,763 students who have joined the MBBS program so far. He expressed optimism that this number will increase to 1,900 with the release of this year's UG NEET results. Furthermore, he emphasized MS Vision 2036 commitment to produce 10,000 doctors to serve the community and the nation at large.
As soon as the whole admission process completes, MS Education Academy will gift stethoscopes as a token of appreciation to all the medical aspirants. Chairman Mohammad Lateef Khan also announced a cash prize of ₹3 lakhs each for MS students who secure a perfect score of 720 out of 720 marks in NEET-UG, starting from the next academic year.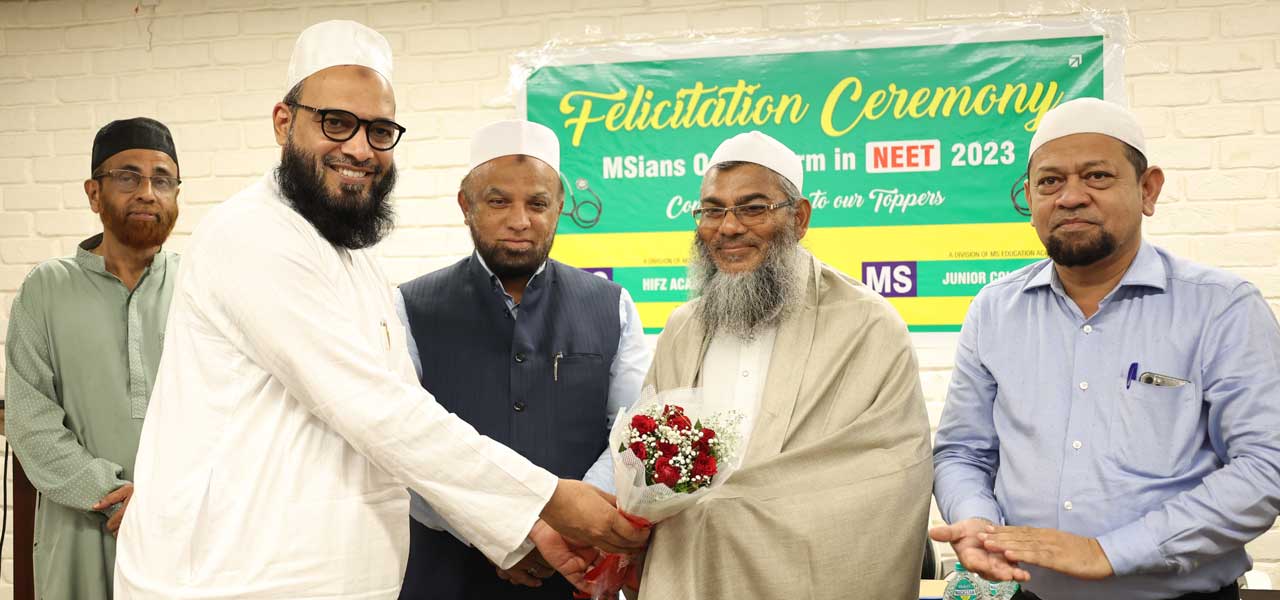 Additionally, as a gesture of honor, a shawl was presented to Mufti Shakeel Sahab, associated with the historic Spanish Masjid. His daughter, Wajiha Naheed, achieved a commendable score of 563 marks in this year's NEET. Notably, Mufti Shakeel Sahab's two sons have already completed their MBBS studies, and a daughter is currently pursuing MBBS. With Wajiha Naheed's pursuit of medicine, all four members of his household have become doctors, marking a significant milestone for his family.
Dr. Mohammed Moazzam Hussain, the Senior Director of MS, congratulated all the toppers and their parents and mentioned that all the six MS students who scored more than 600 marks in NEET had appeared in the examination for the first time. He attributed this success to the efforts of their teachers and the sacrifices of their parents.
Anwar Ahmed, the Managing Director of MS Education Academy, recalled the time when only a handful of minority students qualified in the medicine entrance exam. He expressed gratitude to Allah (SWT) on this occasion and acknowledged that due to the continuous efforts of MS teachers, today one-third of the minority seats in the medical colleges of Telangana are filled by MSians. He advised the students who achieved distinction in NEET to approach their profession as a responsibility in a manner that pleases Allah. He stated that MS aims to inculcate passion for both, faith and the world in students, and it is expected that our students will emerge as role models.
Mohammad Ghosuddin and Mohammad Sadiq Ali, Directors at MS, also participated in the felicitation ceremony and congratulated the students.