MSians WON 138 GOLD MEDALS
EARNED LAURELS AT INTERNATIONAL MATHS OLYMPIAD
The students of MS Creative Schools have won 138 Gold Medals in the International Maths Olympiad competition. MS Education Academy organized a ceremony on this joyful occasion at SS Garden Function Hall in Hyderabad to felicitate and the cheer up the young MSians. This celebration recognizes their extraordinary talent and single mindedness commitment to the field of Mathematics. Their passion inspires a new generation of problem solvers to explore the endless possibilities of this essential discipline.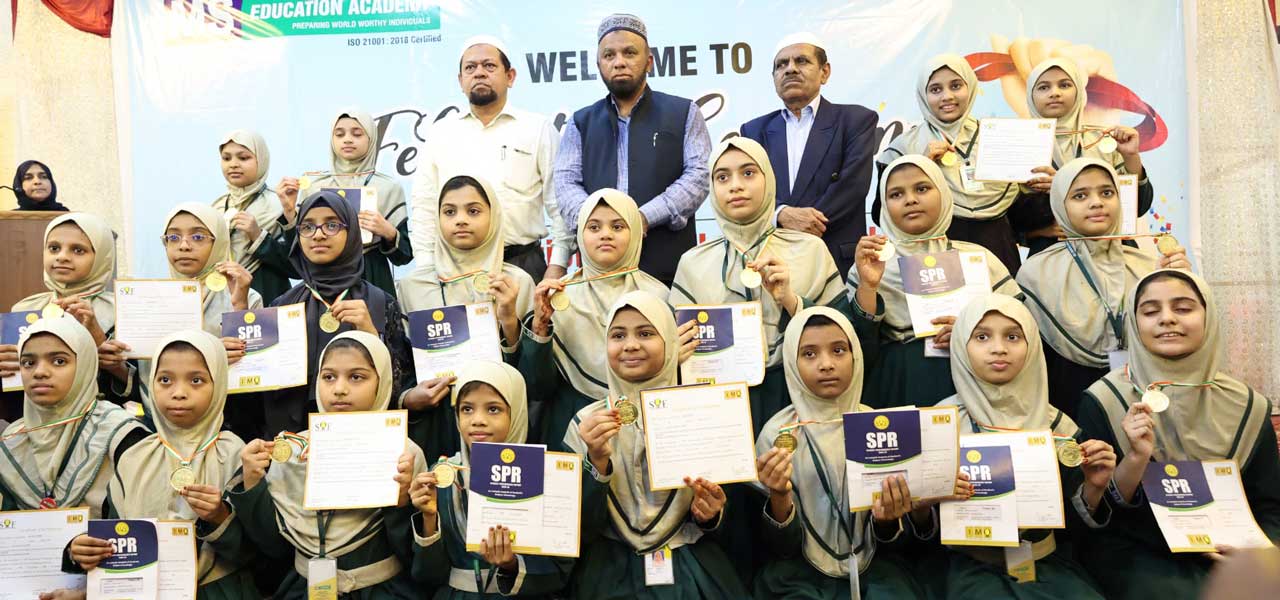 MS Education Academy a parent organization of MS Creative Schools have always recognized the significance of Mathematics and its rightful position in education system. To create enthusiasm about this subject, the students were always encouraged in MS creative schools. Keeping in view the interest of students in Mathematics and Science, they were motivated by the teachers to participate in the International Mathematics Olympiad.
International Mathematics Olympiad is a prestigious competition where the brightest young minds around the world came to a common platform to showcase their skills and knowledge in this crucial subject. It provides students with an opportunity to keep in touch with their subject of interest with the help of practice learning. It Provides the students with a much-needed exposure to a variety of questions, which in turn help them to improve their learning abilities. Olympiads help to shape and sharpens a child's skills, like logical and analytical skills of reasoning with practice and effort.
This was the first time that out of 1,331 students who took part in this prestigious completion 138 succeeded in getting gold medals at Level 1. Students from 3rd to 9th grade participated in the competition and 5 of them proceeded to the next level, achieving success in Level 2 of the competition.

At the ceremony, Anwar Ahmad, the managing director of MS Education Academy, addressed the audience and said "MS is continuously making great efforts to help the youngsters of the community to be on the top levels in the country such as IAS, IPS. He expressed his hope that the International Mathematics Olympiad would prove to be a stepping stone for the students to achieve their aspirations."
Dr. Moazzam Hussain, Senior Director of MS Education Academy praised the winners by saying that for most of the students this was their first taste of success. However, he assured them that it would not be the last for them as they have a long way to go in their careers. He further said that the next goal of MS Education Academy is to participate in the International Science Olympiad, which will be held on 21st November 2023. The MS Creative School is committed to performing well in this competition too. He also said that, MSians will also participate in the International Maths Olympiad and International English Olympiad in the next academic year.
On this occasion, Nuzhat Sofi Khan, Vice-Chairperson of MS Education Academy advised parents to make their children aware of their goal of education, help them to focus on their targets and motivate them to become contributors for the development of the community and to our nation at large.