TWO MSians SISTERS OUTSHINE IN INTERNATIONAL KARATE CHAMPIONSHIP
MS Degree College student Syeda Fareeda Sultana is a rising star of Indian karate, who has won many honours for the country in various disciplines of martial arts, she is a 17-year-old karate champion from Hyderabad. The girl recently won a silver medal in the 16-17 female category at the USA Open Karate and Junior International Cup Champion 2023 held in Las Vegas, in which athletes from 55 countries participated.
Syeda Fareeda Sultana also won the gold medal in World Thai Boxing Championship. She won a total of 8 gold medals in the international karate competitions and 31 national, state and district-level competitions in karate and martial arts.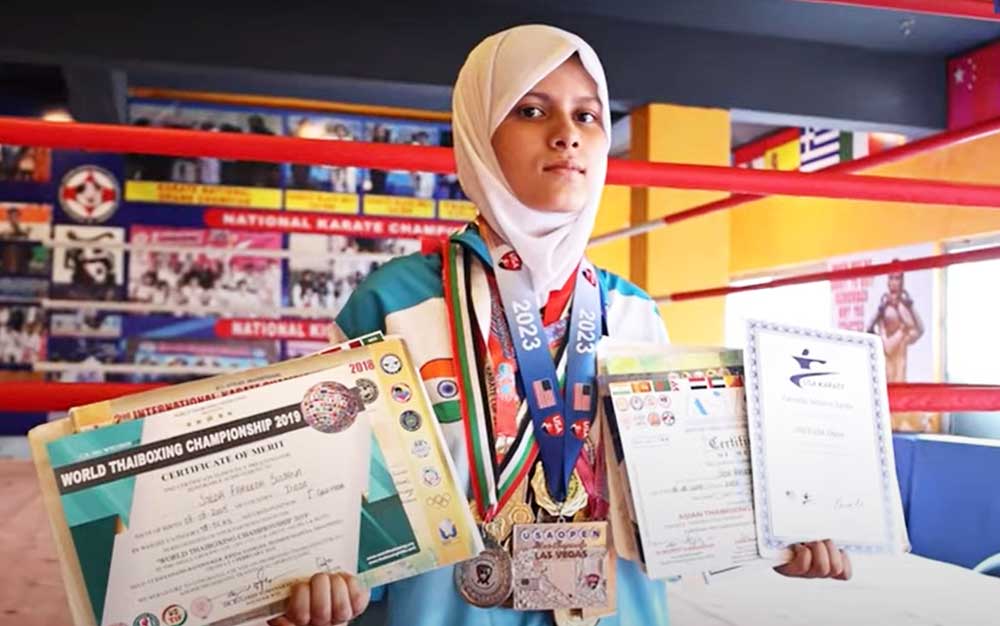 Syeda Fareeda Sultana's younger ten years old sister, Syeda Rudaina Sultana is also a karate champion. She is in fourth grade at MS Creative School recently won the 11th South Asia Hakuakai Karate Championship in the 30 kg category. Rudaina defeated her opponents from Nepal, Sri Lanka and Bangladesh in a tournament held in Hyderabad on 23rd January 2022. She has won two international karate competitions so far.
Fareeda and Rudaina belong to a family with a long history of martial arts. Both are following in the footsteps of their father Syed Iftquar Hussain, who is not only a karate coach, international referee but also the founder, president and technical director of Hyderabad-based Pako Martial Arts Academy. Where Farida and Rudaina train with their siblings and other students. Iftquar has trained many national and international champions and medalists including his children.
Fareeda has a bright future ahead of her, she aspires to pursue a professional career in Chartered Accountancy along with becoming a big name in sports. While Rudaina wants to become a doctor, both have a dream to participate in the Olympic Games and win a gold medal for the country.
The story does not end here! Two more children of Syed Iftquar Hussain, Syed Ghouse Mohiuddin and Syed Alina Fatima also want to follow the family tradition of martial arts. Both Ghouse and Alina are students at MS Creative School. This family of martial arts champions is gearing up to make India proud in international competitions.
MS Education Academy's Senior Director Dr Moazzam Hussain congratulated both students Syeda Fareeda Sultana and Syeda Rudaina Sultana on their achievements. He also appreciated his father Iftquar Hussain who is a trainer and coach for his dedication to train his children. He praised the ambitions of Syeda Fareeda Sultana and Rudaina who both wanted to represent India in the Olympics for the country and bring the Olympic gold medal. He said at MS Education Academy, not only studies but also sports are encouraged, and the results are in front of us today. He said that Fareeda and Rudaina have set an example by achieving success in sports. He expressed good wishes to both sisters and asked them to brighten the name of their family and nation.